Mark Ruffalo Says Hulk's Struggle In 'Avengers: Age Of Ultron' Hints At His Future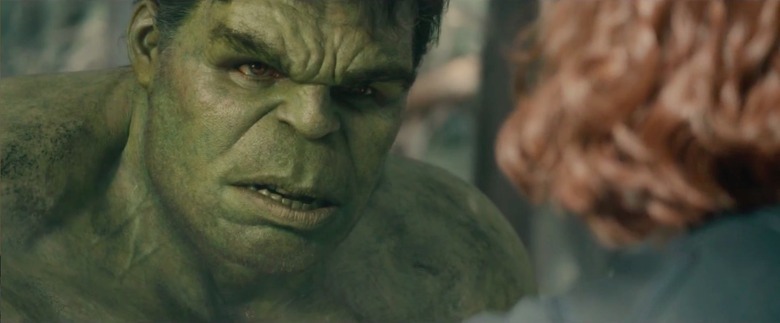 Now that we've seen what Marvel's Phase Three will hold, it's safe to say the future Avengers movies have to double as Hulk movies. He appeared in the first Avengers and has a big role in Avengers: Age of Ultron. While there are rumors of him appearing in another Phase Three film, there's a chance it won't be until Avengers: Infinity War Part 1.
Mark Ruffalo does admit there are moments in Age of Ultron that tease what's to come for the character. In a new interview he talks about how the character's internal conflict could set up future Hulk films and the likelihood of those happening at all. Read the new Mark Ruffalo Hulk quotes below.Empire Online talked to Ruffalo about the character. It's a pretty thorough interview, but this exchange is the highlight:
There's a battle going on between these two opposing egos that live inside him. He's definitely worried that the day is going to come when the Hulk gets the best of him, and maybe won't release him, maybe won't give him back. The Hulk knows this too. There's a moment in here where he, begrudgingly, decides to go back to Banner. Who knows where these things will go, but as Bruce is able to impress his will on the Hulk, going into The Hulk and being inside the Hulk when he's raging, The Hulk's will is also growing and able to impress upon Bruce. That makes for some wild things. We're laying the groundwork for that here. It'll be interesting to see if that ends up being what would be the next Hulk movie.
They then ask him about the status of those:
Who knows, really? That's such an amorphous thing. Nobody has talked to me about that yet. It seems people want it, but it's tough. They've already done two of 'em, and they've only done two Thors, they had a nice run on Iron Man. I feel like they have their plates full. There's probably other people they're keen on doing but I think people have shown that they're ready to see another one.
Finally, they do talk about the Hulkbuster battle and how it's a result of that conflict mentioned above. This could be considered a minor spoiler:
Hulk is the kind of wild card. He's the loose cannon of the group. He's more like an atom bomb. You could guess where he's going to go but he could go either way. I think that there is, obviously, the day when everyone expects it to go wrong and that day comes. And they're ready. And Bruce designed the contingency plan. As much as you feel Bruce has some mastery over it – certainly, with 'I'm always angry' and he can turn into it at will – I still feel that there's some part of him that doesn't completely trust it and doesn't completely trust himself.
So, is that confirmation that Bruce Banner designed the Hulkbuster armor in Age of Ultron because he knew Hulk was going to take over? It certainly sounds like it.
How do you think the internal conflict between Banner and Hulk will play out?