'Birdman' Featurette: How Alejandro González Iñárritu And Emmanuel Lubezki Pulled Off The Single-Take Illusion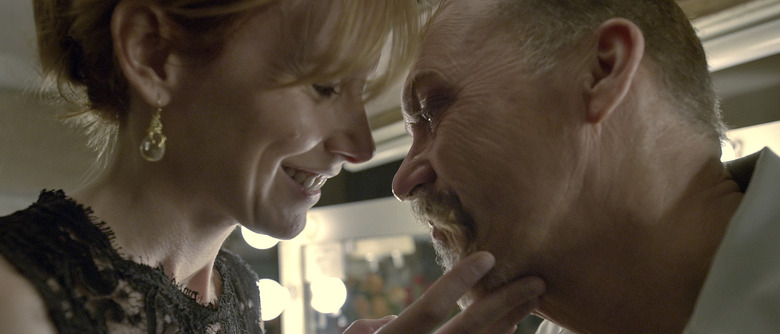 Among other things, Birdman stood out last year for the way it was shot. Nearly the entire film looks like it was captured in a single take. It wasn't — you can spot the seams if you're paying attention — but it's still a remarkable feat that required a stunning level of coordination.
To show you just how much work went into maintaining this illusion, a new Birdman featurette dives behind the scenes with director Alejandro González Iñárritu, cinematographer Emmanuel Lubezki, and stars Michael Keaton and Amy Ryan. Watch it after the jump.
Thomopson on Hollywood posted the Birdman featurette. The motion of the camera in Birdman is so fluid, it makes the single-take illusion look almost easy. But as this video shows, that's not the cast at all. Happily for everyone involved, their efforts paid off — the choice gives Birdman a surreal, almost dreamy feel, and makes the setting feel alternately (or sometimes simultaneously) expansive and intimate.
In an accompanying interview, Lubezki talks about the excitement of the (not-quite-)single-take approach:
Birdman was unknown territory. It's exciting and it gives you energy all day because you have to be incredibly concentrated. And it's incredible energy for the actors because they know the scene you're shooting is the scene and there is no coverage.
Lubezki also pointed out a detail you might have missed:
There was something that we did that nobody has mentioned: the labyrinth of corridors shrink and shrink as the movie progresses and Riggan's level of stress and insanity grow. We narrow the width of the corridors and the ceilings come closer. We didn't want to do it in a way that looked too strange but it's something that you feel.
The single-take illusion is a showy one, and no doubt helped Birdman capture the attention of the Academy. The film is up for 9 awards this Sunday, including Best Picture, Best Director, Best Cinematography, Best Actor (Keaton), and Best Supporting Actress (Ryan), and has already picked up a slew of statues at the various guild awards.