'Tomorrowland' Toys Reveal A New Character And Jet Pack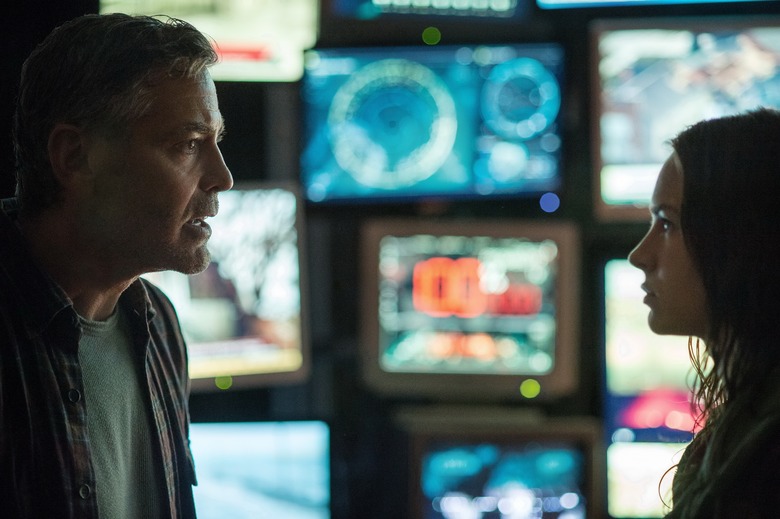 Disney's marketing team has been pretty secretive about Brad Bird's Tomorrowland, but details have a way of leaking out anyway. Today it's thanks to Funko, which unveiled a line of Tomorrowland toys at this weekend's Toy Fair.
The figurines reveal the movie's major characters, including one we've never seen and a couple we barely know. Plus, they all come with accessories including shiny guns and a jet pack. Join us after the jump as we attempt to figure out what the Tomorrowland toys mean about the Tomorrowland movie. 
io9 got a look at the Tomorrowland toys display at Toy Fair.
Here's what you're looking at, in order:
Frank Walker (George Clooney) with some kind of silver device
Young Frank Walker (Thomas Robinson) with a jet pack (by far the coolest accessory of the bunch)
Casey Newton (Britt Robertson) with a golden gun
Athena (Raffey Cassidy) with a black ray gun
David Nix (Hugh Laurie) with a silver device that seems to match Frank's
Dave Clark (Matthew MacCaull) with another silver device that looks like Frank's and David's
Casey has been the center of focus in most of the trailers, and Frank has featured pretty prominently in the marketing as well. We know much less about Athena, rumored to be some sort of android. Even Cassidy has been shy about sharing too much — at last year's NYCC, she'd divulge only that her character "is extremely optimistic and knows karate." Nor do we know a lot about David Nix. Both Athena and Nix appeared in the Super Bowl trailer, but only very briefly.
The most mysterious character of the bunch, though, is Dave Clark. There isn't even a still of him on the toy packaging. Based on his curiously bashed-in face, and based on what I've seen of the footage, I wonder if he's one of the robot agents who comes after Frank and Casey — but I can't say for certain either way.
The fact that Frank, David, and Dave are wielding similar devices could suggest they're connected in some way that the other characters are not, while Casey and Athena's guns indicate we're in for some big action. Beyond that, though, your guess is as good as ours.
Tomorrowland opens May 22, 2015.