J.J. Abrams And Kathleen Kennedy Will Kick Off 'Star Wars Celebration'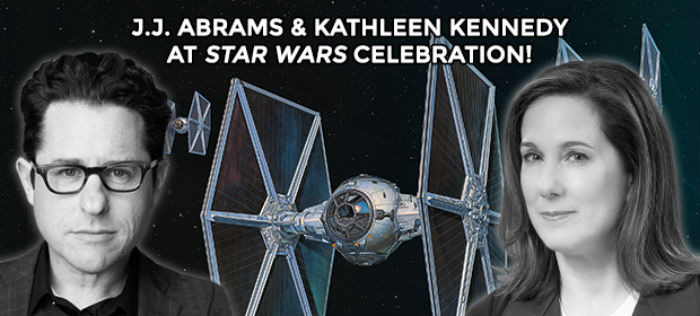 For months, everyone's been hypothesizing that the next trailer for Star Wars: The Force Awakens was going to debut at Star Wars Celebration (before hitting theaters and online). Well, Lucasfilm just announced that the film's co-writer and director, J.J. Abrams will kick off the event with producer and Lucasfilm president Kathleen Kennedy "in a big way" on April 16. I think we all know what that means. Read more below.
Here's the official announcement via the official website:
For  J.J. Abrams, the Star Wars Celebration circle is now complete.
StarWars.com is thrilled to announce that the director of Star Wars: The Force Awakens — who once attended Star Wars Celebration as a fan — is confirmed to appear at Star Wars Celebration Anaheim this April. Abrams and Lucasfilm president Kathleen Kennedy will kick off the show in a big way on Thursday morning, April 16, at 10:00 a.m. This will be a day long remembered.
Kennedy attended Celebration Europe in July 2013, where she had an in-depth chat with host Warwick Davis, and revealed that John Williams would return to score Star Wars: The Force Awakens. She also toured the show floor, checking out the work of the R2 Builders Club — which led to members of the fan group joining the production of Star Wars: The Force Awakens.
Visit starwarscelebration.com to buy tickets, and check back closer to the show for queuing and wristband details.Star Wars: The Force Awakens is scheduled for release December 18, 2015.
I mean – it's footage from the movie, right? It's gotta be. Maybe not just a trailer either. Possibly a sizzle reel too. Something special to make people who paid money to attend the event feel special – outside of just seeing new footage first.
Plus, what are they odds they just limit this event to Abrams and Kennedy? Maybe the cast of the film shows up for a bit? Or maybe that's later in the weekend. Either way, it's going to be big and, hopefully, /Film will be in attendance to fill you in on what happens. (Also – that's all purely speculative. I honestly don't know what's in store).
One note for anyone attending who is as nervous about this as I am. At previous Star Wars Celebrations they had a room dedicated to just showing new footage, on a loop, all day. People could just go in, sit there, watch it, and leave the more people would come in. Fingers crossed they do that again.
Star Wars Celebration takes place April 16-19 at the Anaheim Convention Center. Will we see you there?