'Mission: Impossible 5' Will Open In IMAX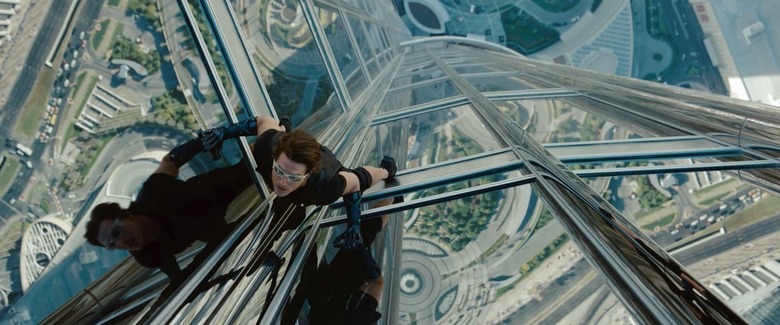 Ethan Hunt's next jet-setting, death-defying international adventure will be just as big as his last one. Paramount and IMAX announced today that Mission: Impossible 5 will play in IMAX when it hits theaters July 31. Because if Tom Cruise is going to strap himself to a plane at 5,000 feet, he's gonna make damn sure we can drink in every little detail. Get all the info on the Mission Impossible 5 IMAX release after the jump.
The press release from Paramount Pictures, Skydance Productions, Bad Robot, and IMAX Corporation notes that Mission: Impossible 5 is being digitally remastered for the IMAX format. Unlike Mission: Impossible – Ghost Protocol, it doesn't seem to have any scenes actually shot in IMAX. Which is too bad, because the native IMAX scenes of Mission: Impossible – Ghost Protocol were some of the best parts.
Nevertheless, everyone involved sounds just thrilled about the impending Mission Impossible 5 IMAX release. Said Cruise: "IMAX is so important in giving the audience the best experience of the film we have made. I am very happy to have this partnership on the next Mission."
IMAX exec Greg Foster added, "This film was literally made for IMAX and summer moviegoing."
And Paramount vice chairman Rob Moore chimed in, "Audiences the world over proved with the last Mission that the IMAX experience is not to be missed and so we are all thrilled to again partner with Rich, Greg and everyone at IMAX to bring this next exciting installment to their screens this summer."
The last Mission: Impossible was indeed a big success, earning nearly $700 million at the global box office. Collectively, the four Mission: Impossible movies so far have grossed over $2 billion worldwide.
Christopher McQuarrie is directing this time around, while Cruise returns in the lead. Also back from previous installments are Jeremy Renner, Simon Pegg, and Ving Rhames. Alec Baldwin, Rebecca Ferguson, and Sean Harris join the series for the first time. Cruise, J.J. Abrams, and Bryan Burk are producing.