Adam Shankman Will Direct Peter Dinklage's Leprechaun Comedy 'O'Lucky Day'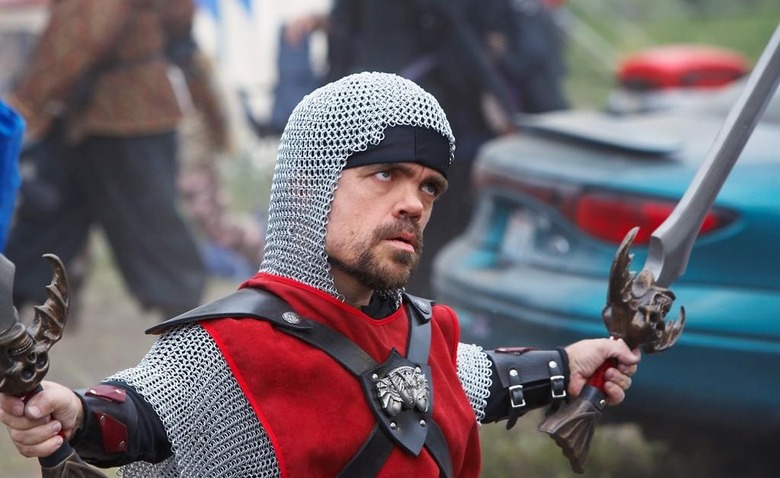 Much as we admire Peter Dinklage's ability to steal every scene he's in, it kinda seems like he shouldn't have to. It's about time he got another chance to lead his own feature film. And what do you know, there's one coming his way right now.
Paramount Pictures has set Adam Shankman to direct Dinklage in O'Lucky Day, a Bad Santa-esque comedy about a guy who tells people he's a leprechaun. Get details on the Peter Dinklage leprechaun comedy after the jump.
Deadline reports that Shankman is currently in talks for the directing gig. O'Lucky Day has been brewing for a couple years now, and was described in 2013 as being "deep in R-rated territory but wrapped around an emotional heart." Dinklage leads as a con man whose scam involves posing as a real, live leprechaun.
Andrew Dodge wrote the original script and Damian Shannon and Mark Swift (Freddy vs. Jason, Friday the 13th) are doing rewrites. Dodge's last screenplay, the Jason Bateman-directed Bad Words, was also frequently compared to Bad Santa.
Shankman has a long but spotty track record with comedies. His last film was 2012's Rock of Ages, and before that he directed Bedtime Stories, Hairspray, and The Pacifier. O'Lucky Day sounds a bit edgier than his usual fare, which has been PG or PG-13. Frankly, his involvement doesn't inspire much confidence in the film. But Dinklage's does so maybe it'll balance out.
Dinklage continues to star in HBO's Game of Thrones, which kicks off its fifth season in April. Also coming up for him are the Happy Madison actin-comedy Pixels, due out in July, and the Melissa McCarthy comedy Michelle Darnell, which opens next year.
O'Lucky Day will be produced by Dinklage along with Disruption Entertainment's Mary Parent and Cale Boyter (The SpongeBob Movie: Sponge Out of Water). Production is scheduled to get underway in April, right after Dinklage wraps shooting Game of Thrones Season 5.