'Kingsman: The Secret Service' Sequel Could Introduce American Kingsmen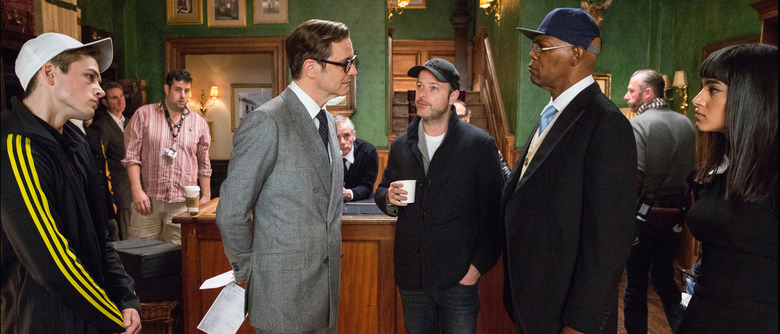 Kingsman: The Secret Service is a very British affair. Englishman Colin Firth plays a 007 type for English director Matthew Vaughn, who wrote the script with English screenwriter Jane Goldman based on a book by Scottish writer Mark Millar. But apparently, the Kingsman organization doesn't stop at the U.K. Borders.
In a recent interview, Vaughn teased that the next Kingsman could open up the American branch of the service. Every James Bond needs his Felix Leiter, after all. Read Vaughn's Kingsman sequel comments after the jump.
Speaking with Moviefone, Vaughn divulged his desire to do a sequel. "I'd love to do another one," he said. "But it's up to the audience. If they go see it and want another one, I would absolutely love to do it."
As for what'll happen in the sequel, Vaughn unsurprisingly revealed that it'll continue to follow Eggsy (played by Taron Egerton):
This movie really is the origin story of Eggsy. And Eggsy is really the real, true modern gentleman spy. It really isn't Harry Hart. Harry Hart is the old cliché of what you think a gentleman spy is. Eggsy will be taking on a whole new way.
While Eggsy should be familiar to audiences by the time Kingsman 2 rolls around, Vaughn also has a few new twists and turns in store:
We had so much fun making this movie. And you wouldn't believe what we've got in store. Poor Mark Strong will be going on a journey that he never imagined. And we've got this idea to introduce the world to the American branch of the Kingsman.
The director wouldn't go into further detail, but teased, "Listen, all of them will be doing stuff... And the villain we've come up with... We've got a really fun idea for the sequel."
But again, that's not going to happen unless people actually see this movie. If you want to see the Kingsmen come to our shores, make sure to pick up a ticket. Kingsman: The Secret Service lands this Friday, February 13.