Liam Neeson Finds New Thrills In 'The Commuter'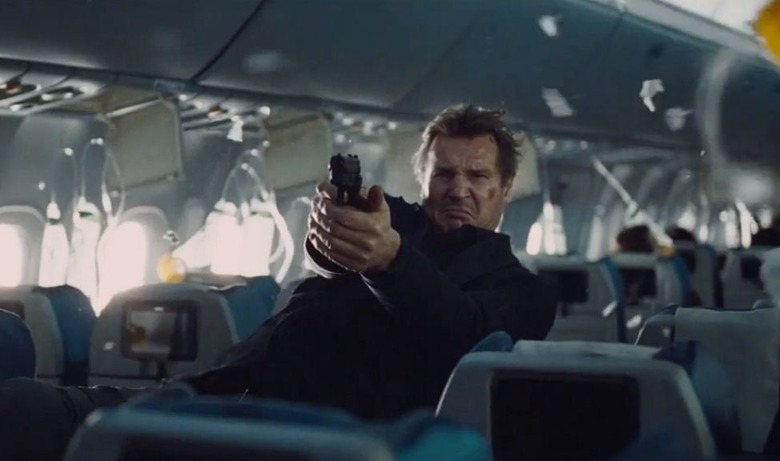 Liam Neeson may not end up in the TV version of one of his most famous movie roles, but the actor is carrying on in the thriller mode that has defined the last few years of his career. Now, Liam Neeson... is... The Commuter! That relatively underwhelming title decorates the front page of a script about a businessman's white-knuckle trip home, during which he is embroiled in a conspiracy. 
Deadline has the report, saying the film comes from The Picture Company, with Andrew Rona and Alex Heineman producing with money coming from StudioCanal. That's some of the same producing team behind Jaume Collet-Serra's film Non-Stop, which Neeson led in 2014. (That film also gives us the image above.) The script is by Byron Willinger and Phil de Blasi.
The site has this to say about the plot of The Commuter:
In The Commuter, which will shoot in New York in the spring, Neeson will play a businessman on his daily commute home who unwittingly gets caught up in a criminal conspiracy.
Sounds like a potential companion film the The Girl on the Train, which features a woman who is fixated on fantasies about the couple she imagines as perfect every evening on her commuter train ride home. But things get weird when she actually connects with one half of the couple. This film might be angled more into action/thriller territory, as the main character finds himself enmeshed in problems derived not only from his own life, but maybe something that sounds more like a Hitchcock plot device.
Thrillers may seem to be the most prominent aspect of Neeson's career right now, thanks to Taken and everything that followed, but that's not all he's got going. He's one of the stars of Silence, the film Martin Scorsese finally shot earlier in 2015 after years harboring ambitions to adapt the novel by Shusaku Endo about Jesuit missionaries in 17th Century Japan. That should hit theaters next year.
Neeson also has the Korean War film Operation Chromite going into production soon, about the pivotal Battle of Inchon, where he'll play General Douglas McArthur. He also voices the title monster in the film A Monster Calls, which according to IMDB is in post-production, and features a great cast (Felicity Jones, Toby Kebbell, Sigourney Weaver, Geraldine Chaplin) under the direction of J.A. Bayona (The Impossible, The Orphanage) based on the YA novel from Patrick Ness.
So in fact, it's more like The Commuter is an anomaly in Neeson's upcoming schedule; most of the stuff he has going forward could be pretty fantastic.