'Aloha' Trailer: Cameron Crowe's Latest Features Bradley Cooper And Emma Stone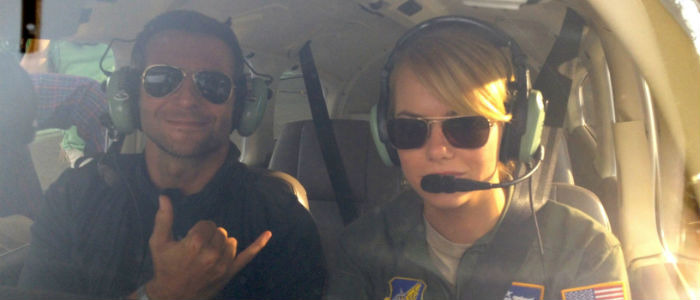 Cameron Crowe's latest film, Aloha, now has a trailer. It's been a film somewhat shrouded in mystery. The project didn't have a title for a long time, then was delayed, but now many questions about the film have been answered.
Aloha opens May 29. It stars Bradley Cooper, Rachel McAdams, Emma Stone, Danny McBride, John Krasinski, Alec Baldwin and Bill Murray. Check out the Cameron Crowe Aloha trailer below.
Aloha trailer
Thanks to People for the trailer.
So basically the movie is what we'd heard. A military contractor screws up something royally, but then gets assigned to Hawaii to oversee a satellite launch. There, he has to deal with his ex-girlfriend, a new flame and more.
I mean – it's a Cameron Crowe movie. That's exciting. You can see those Crowe moments in there, the solid dialogue, the awesome use of music. But I really feel like one of two things is in play here. Either the movie is impossible to market or we have a problem. I'm gonna hope for the former. You don't get a cast like that, a few of which are going to be coming off fresh Oscar-nominates, without a script that makes sense and works as an uplifting, unique story.
I keep thinking back to movies like Jerry Maguire, Almost Famous or Say Anything. Those are all pretty odd movies if you just write down their log lines but, ultimately, they work right? I'm hoping it's the same for Aloha. A complicated movie that works when you watch it, but isn't easily digestible in a 2 minute trailer.
Note: this film was originally called Deep Tiki, had Ben Stiller and Reese Witherspoon attached, and was a very similar story but had lots of Hawaiian gods in it. It's a weird movie no matter what form it's in.