Cool Stuff: Mark Englert's Simpsons Poster "Springfield Gorge"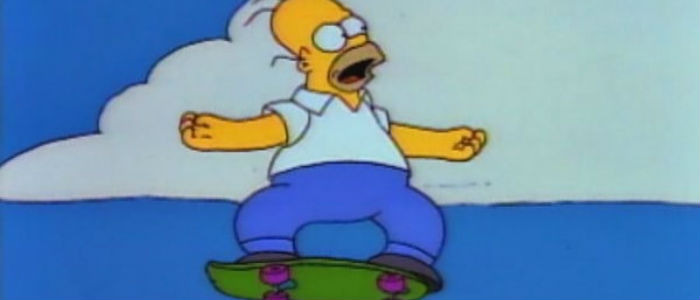 "I'm gonna make it. I'm gonna make it! This is the greatest thrill of my life! I'm king of the world! Woo hoo! Woo hoo! I...AHHHHHHH."
It's one of the most iconic moments in the history of The Simpsons. The episode is called "Bart the Daredevil," which first aired in 1990. Bart begins to gain some fame as a daredevil and decides his crowning achievement will be to jump Springfield Gorge. Just as he's about to do it his father, Homer, tells him it's a bad idea. In fact, it's such a bad idea, Homer will show him. This is the genius of Homer Simpson.
Down the ramp he goes and through the air he flies. He's going, he's going, the above quote comes out of his mouth. And then...the most epic crash in the history of television, followed by an ambulance, and then another series of falls.
Now, Acme Archives and artist Mark Englert have immortalized this perfect moment in an officially licensed, limited edition screenprint that'll be available February 16. Good news too, it's a timed edition. See the image, some close-ups, and find out how to buy "Springfield Gorge" exclusively here on /Film.
Here's the Mark Englert Simpsons poster Springfield Gorge. Click to see it larger.

And two close ups.
Mark Englert's Springfield Gorge will be on sale from 10am PST February 16 until 10 am PST February 17th. It will measure 12 inches by 36 inches and they'll print as many orders as they get. You can find out about the sale at @AcmeArchives or visit www.darkinkart.com.
What I love about this piece, like lots of Englert's work, is that it doesn't immediately scream "Pop culture." You could frame this piece, place it somewhere and it might just look like a beautiful landscape. But when you get closer and see Homer on the skateboard, Bart on the ledge, and that crazy drop, it immediately becomes something very special.
What do you think of Englert's piece?