Exclusive: See The Covers To Two Upcoming 'Mad Max: Fury Road' Books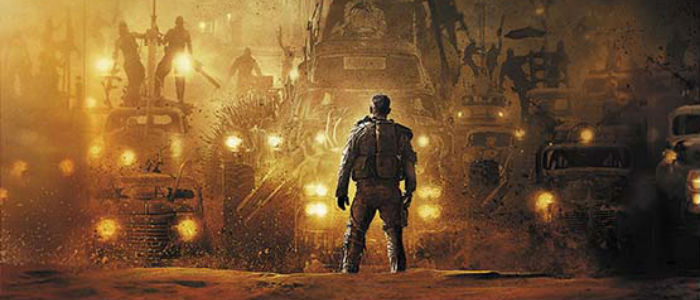 If you're reading this website, you're most likely excited for Mad Max: Fury Road. Even if you haven't been following the franchise since its humble beginnings, those trailers certainly hit your geek radar. The visuals and music director George Miller is working with for this latest film, which stars Tom Hardy, Charlize Theron and Nicholas Hoult, look and sound remarkable.
As we all patiently wait for the release of Mad Max: Fury Road on May 15, the DC Comics imprint Vertigo has collaborated with Miller on a few new releases. There's a large, hardcover book called Mad Max: Fury Road: Inspired Artists which has art influenced and inspired by the world of Mad Max by 65 famous artists. They're also doing four character centric prequel comics, which will tell the story of characters played by Hoult, Theron and Max immediately before the film begins.
/Film is excited to exclusively debut the first information and covers for the two of these Mad Max Fury Road books. See them below
Here's are the front and backcovers to Mad Max: Fury Road: Inspired Artists followed by and Mad Max: Fury Road: Nux & Immortan Joe #1.
Mad Max Fury Road books
Mad Max: Fury Road: Inspired Artists is out May 6 and then Nux and Immortan Joe #1 (who are the characters played by Nicholas Hoult and Hugh Keays-Byrne) is out May 20. That one is a one shot and, each month after, they'll release a new character prequel comic book. So Furiosa #1 is after that, followed by Mad Max, in two parts. Those are co-written by Miller himself.
Here's the official information on each book.
MAD MAX: FURY ROAD: NUX & IMMORTAN JOE #1Written by GEORGE MILLER, NICO LATHOURIS and MARK SEXTONArt by RICCARDO BURCHIELLI and LEANDRO FERNANDEZCover by TOMMY LEE EDWARDSOne-shot • On sale MAY 20 • 40 pg, FC, $4.99 US • MATURE READERSIn a fallen world ravaged by oil and water wars, humanity exists without law or mercy. All those who wander the Wasteland are ruled by a single imperative...survive!Among them is Max Rockatansky, a Road Warrior haunted by his turbulent past..."It's hard to know who is more crazy.Me or everyone else?!"In this first issue, witness the rise of Colonel Joe Moore, a war hero turned tyrannical warlord...The Immortan Joe!And don't miss the story of Nux, one of the Immortan's "War Boys," who knows only the chaos into which he was born.From the mind of George Miller, the creator of the Mad Max trilogy, comes a brand new epic tale that serves as a prelude to the upcoming film, Mad Max: Fury Road!MAD MAX: FURY ROAD – INSPIRED ARTISTS DELUXE EDITION HCArt by BILL SIENKIEWICZ, LEE BERMEJO, DAVE JOHNSON, PAUL POPE, DAVID MACK, HOWARD CHAYKIN, NICOLA SCOTT, GABRIELE DELL'OTTO, CLIFF CHIANG, GEORGE PRATT, TOMMY LEE EDWARDS, JOHN PAUL LEON, TEDDY KRISTIANSEN, SIMON BISLEY, GILBERT HERNANDEZ, JAVIER PULIDO, TARA McPHERSON, DECLAN SHALVEY, REBEKAH ISAACS, DVE McKEAN and many more!With commentary by GEORGE MILLER and the artistsOn sale MAY 6 • 144 pg, FC, 7.0625" x 10.875", $24.99 US • MATURE READERSIn anticipation of the upcoming blockbuster film Mad Max: Fury Road, 65 of comics' best artists took to the post-apocalyptic landscape to interpret this gorgeous and desolate world of George Miller's design. Inspired by images from the film, each of these visionary artists brings their unique style to a double-page spread of part of the world of Mad Max, with commentary from the artists and Miller himself. From breathtaking action sequences to heartbreaking character portraits, Fury Road will be perfectly captured by a one-of-a-kind array of comics legends, side-by-side with some of the most exciting new talent in the industry!
And the official press release:
Vertigo, the innovative, boundary-pushing imprint of DC Entertainment, will collaborate with Mad Max: Fury Road director, producer and co-writer George Miller on two upcoming projects based on the film. The first is a Deluxe Edition hardcover entitled MAD MAX: FURY ROAD: INSPIRED ARTISTS, in which sixty-five top artists will create art inspired by the world of Mad Max: Fury Road. The second is four comic book stories that follow four main characters of the film and tell their prelude stories leading up to the film's opening scene.
MAD MAX: FURY ROAD: INSPIRED ARTISTS will contain double-page spreads from 65 visionary artists bringing their own unique style to the world of Mad Max: Fury Road. Each of the artists' work will be inspired by Miller's post-apocalyptic wasteland. These spreads will range from spectacular action sequences to haunting character portraits. Artists participating include Lee Bermejo, Dave McKean, Cliff Chiang, Nicola Scott, Stephanie Hans, Tara McPherson, among others. This book is due to hit shelves on May 6, prior to the film's May 15th release.
In addition, George Miller, Nico Lathouris and Mark Sexton are writing four prelude stories that follow leading characters Nux, Immortan Joe, Furiosa, and Mad Max, whose story will be in two parts. This miniseries will release one issue a month, starting with MAD MAX: FURY ROAD: NUX & IMMORTAN JOE #1 releasing on May 20, followed by MAD MAX: FURY ROAD: FURIOSA #1 and MAD MAX: FURY ROAD: MAD MAX #1 & #2. Nico Lathouris served as a co-writer on the film while Mark Sexton served as storyboard and concept artist for Mad Max: Fury Road. Interior artists working on these projects include Riccardo Burchielli, Leandro Fernandez, Tristan Jones ,Peter Pound and Mark Sexton, while covers will be illustrated by Tommy Lee Edwards.