'Trainwreck' Trailer: Amy Schumer Teams With Judd Apatow [UPDATED With Red-Band Trailer]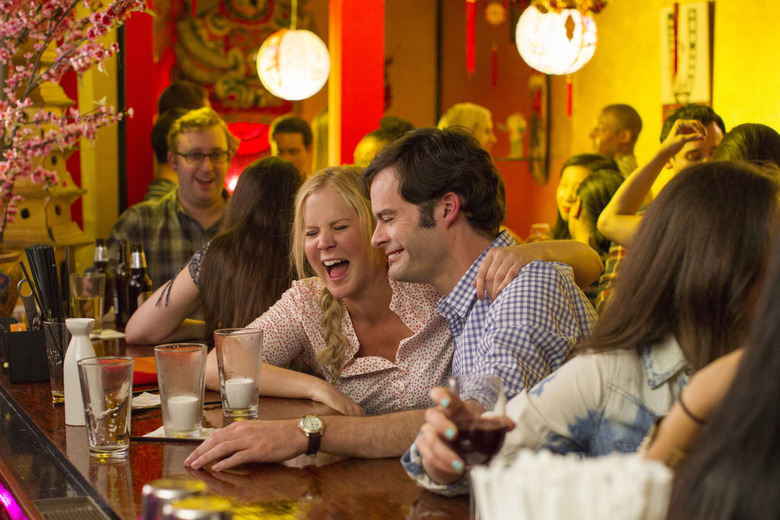 If you've seen even a little bit of her Comedy Central series, you already know that Amy Schumer one of the funniest actresses on the small screen. Now she's poised to take over the big screen as well, as the writer and star of Judd Apatow's Trainwreck.
Schumer plays a woman who's utterly allergic to commitment. Actually, "commitment" seems like too strong a word — based on the Trainwreck trailer, she doesn't even like getting to the second date if she can help it. Enter a handsome doctor played by Bill Hader, who threatens to upend her life.
The supporting cast is equally stellar, with Vanessa Bayer and Lebron James(!) as Schumer and Hader's supportive pals, Tilda Swinton as Schumer's boss, and much much more. Watch the first Trainwreck trailer after the jump.
Update: A Trainwreck red-band trailer has also hit, with more raunchy jokes. Plus, a new poster and new stills — see it all below.
Schumer unveiled the Trainwreck trailer on Twitter.
Update: And here's the red-band version:
Apatow's films have grown a bit shaggy as of late, and Schumer's a big-screen newbie, but they seem to be in good hands with each other. Schumer's unique perspective puts a fresh spin on the humor-plus-heart formula that have made Apatow's past films so successful.
The trailer is flat-out hilarious. I particularly love the last scene, where Bayer and Schumer are utterly confused by Hader's very polite phone call, while James serves as Hader's helpful BFF. If Trainwreck weren't already on our most-anticipated lists, it would be now.
Trainwreck opens July 17. Also appearing are Brie Larson, John Cena, Mike Biriglia, Ezra Miller, Marisa Tomei, Daniel Radcliffe, Barkhad Abdi, Jon Glaser, Colin Quinn, and Randall Park. Lord knows how Apatow and Schumer have managed to fit them all in, but it should be fun to find out.
Since she was a little girl, it's been drilled into Amy's (Schumer) head by her rascal of a dad (Colin Quinn) that monogamy isn't realistic. Now a magazine writer, Amy lives by that credo—enjoying what she feels is an uninhibited life free from stifling, boring romantic commitment—but in actuality, she's kind of in a rut. When she finds herself starting to fall for the subject of the new article she's writing, a charming and successful sports doctor named Aaron Conners (Bill Hader), Amy starts to wonder if other grown-ups, including this guy who really seems to like her, might be on to something.