'Hitman: Agent 47' Trailer: Rupert Friend Is The New Timothy Olyphant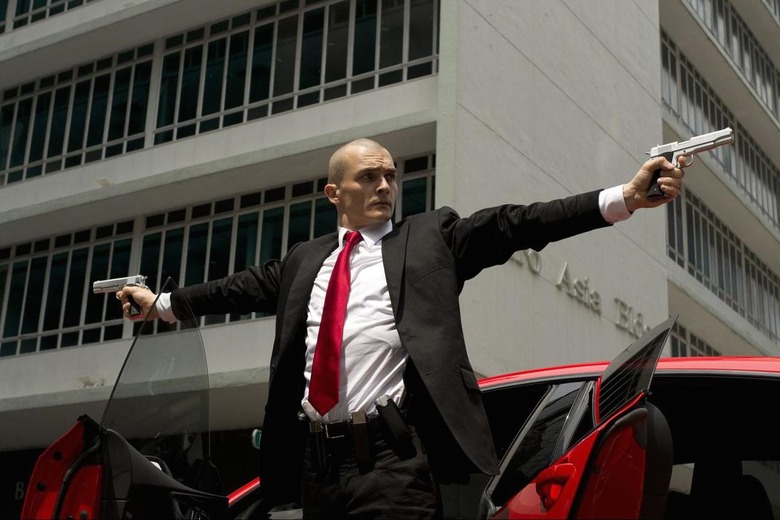 The last attempt to launch a movie franchise based on the Hitman games stalled after just one 2007 installment starring Timothy Olyphant. But Fox seems determined to make it work, so today we have the first trailer for the relaunch, titled Hitman: Agent 47.
Rupert Friend leads this time around as 47, a specially engineered assassin who sets out to stop a corporation from unleashing an army of even more specially engineered assassins. Hannah Ware and Zachary Quinto also star, and Aleksander Bach directed. Check out the Hitman Agent 47 trailer after the jump.
Watch below, or click over to Apple to see the Hitman Agent 47 trailer in HD.
So much of the Hitman: Agent 47 trailer feels familiar, and not just because it's based on a popular video game series. We've seen these characters playing out this story, a hundred times before. Still, it's not all bad. If the rest of the movie is anything like that ridiculous scene of Agent 47 breaking out of the interrogation room, Hitman: Agent 47 could be exactly the kind of mindless time-waster you need to get you through the dead of summer.
Hitman: Agent 47 opens August 28, a few weeks after Fox's other big franchise reboot.
HITMAN: AGENT 47 centers on an elite assassin who was genetically engineered from conception to be the perfect killing machine, and is known only by the last two digits on the barcode tattooed on the back of his neck. He is the culmination of decades of research – and forty-six earlier Agent clones — endowing him with unprecedented strength, speed, stamina and intelligence. His latest target is a mega-corporation that plans to unlock the secret of Agent 47's past to create an army of killers whose powers surpass even his own. Teaming up with a young woman who may hold the secret to overcoming their powerful and clandestine enemies, 47 confronts stunning revelations about his own origins and squares off in an epic battle with his deadliest foe.