Jon Stewart Leaving 'The Daily Show'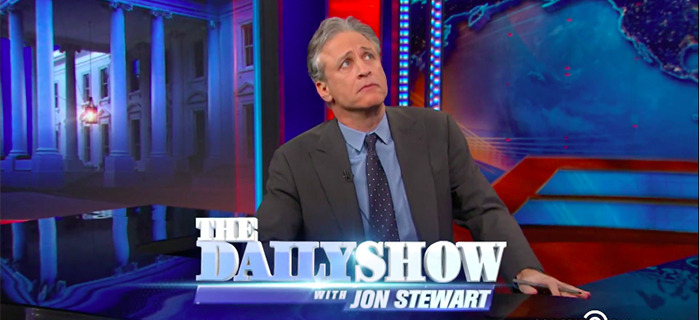 The most trusted name in fake news is preparing to walk away from his desk. During the taping of tonight's The Daily Show, host Jon Stewart told his studio audience that he will be leaving the show. Tweets from those who attended the taping first spread the word, and Comedy Central quickly followed with an official statement. Read that below.
This is disappointing, but not entirely a surprise. Stewart has been at this a long time.
We've seen Stephen Colbert, who got his first major breaks as a Daily Show correspondent under Jon Stewart, begin and end his acclaimed Colbert Report during the time Stewart was anchoring The Daily Show, moving on to replace David Letterman at CBS. Other correspondents, such as John Oliver and Larry Wilmore, now have their own shows. Steve Carell, a former contributor under Stewart, has become a comedy star on TV and in film. Stewart's show has developed or raised the profiles of a rich array of talent, from Jessica Williams and Kristen Schaal to Aasif Mandvi and Wyatt Cenac.
We don't know what Stewart will do next, though we wouldn't be surprised to see him getting behind the camera again to direct another film, following his first feature, Rosewater.
Regardless, Stewart's voice will be missed as a nightly presence. He's been Walter Cronkite and Johnny Carson rolled into one, a combination that was oddly appropriate for the years under Presidents George W. Bush and Barack Obama. And while I'll miss his coverage of the sure-to-be insane 2016 US Presidential Elections, I can't say I blame Stewart wanting to get out now.
Under Jon Stewart, The Daily Show, with all its goofy eccentricities, has been a guiding force in being critical of politicians and media. Stewart was often the most sane voice in conversations about national and global issues. The irony of a late-night comedian being one of the most important political commentators of the last two decades wouldn't be lost on Stewart, but we'll definitely feel like we've lost something important when he's off the air.
I never meant this to sound like a eulogy; if it does that's because Stewart has been a consistently important voice in American media for many years, and losing that voice seems like a very big deal right now. But I wouldn't want to see him locked into a gig he no longer finds energizing, and honestly, it's seemed like he's already been feeling that way about the job. I'm happy he gets to do something new, and I'm excited to see what it will be.
Here's the Comedy Central statement.
Thank you Jon. pic.twitter.com/yPdxjnkuLw

— comedycentral (@ComedyCentral) February 10, 2015