Ghostbusters Board Game Announced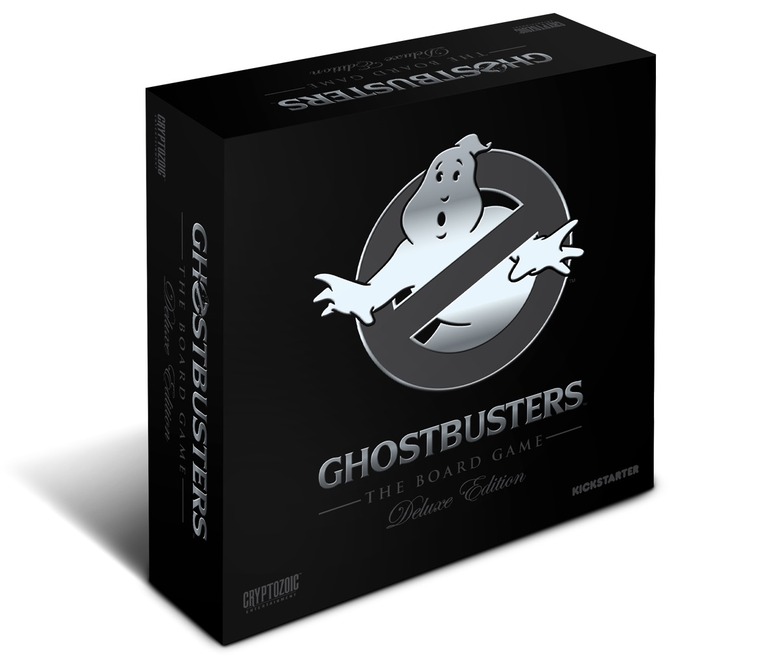 Cryptozoic has announced plans to release Ghostbusters: The Board Game, the first Ghostbusters board game in nearly 30 years. Full details on the Ghostbusters board game and how you can back it, after the jump.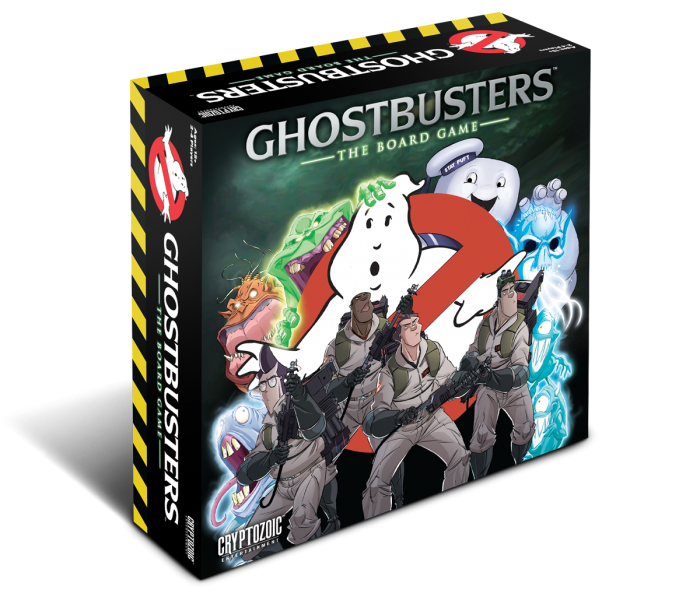 Officially licensed by Sony, the Co-op game allows 1-4 players to join the Ghostbusters. Each player controls their own Ghostbuster, each with their own unique abilities that level-up during play, fighting ghosts from the movies and cartoon series. The game features almost 50 miniature figures, designed by Dan Schoening, the artist of IDW's Ghostbusters comic book. They are launching the Ghostbusters board game on Kickstarter in a variety of pledge levels.
As a big fan of the franchise and an obsessed boardgamer, this announcement excites me. Look at the boss and Ghostbuster figures and tell me they don't look cool. But some of the other components pictured don't fill me with confidence that the game will actually be good.
Cryptozoic is best known for their board and card games usually involving licensed characters and properties like DC Comics, Lord of the Rings, Walking Dead, Adventure Time, Archer and Street Fighter. Video gamers know that licensed games are usually a bad sign, but the board game world is a bit different – companies like Fantasy Flight Games and Gale Force Nine have regularly produced great games based on licensed franchises. That said, I think Cryptozoic is a mixed bag in this respect — gamers seem to like their DC Comics Deck-Building Game, but I haven't heard many glowing comments about the rest of their licensed game history.
The full press release can be read below:
SONY PICTURES CONSUMER PRODUCTS AND CRYPTOZOIC ENTERTAINMENT TEAM UP FOR A NEW GHOSTBUSTERS™ TABLETOP GAME
Creators of the DC Comics™ Deck-Building Games Developing Officially Licensed Ghostbusters™ Board Game
Lake Forest, CA – Feb. 10, 2015 – The streams have been crossed and the Keymaster and the Gatekeeper have come together! Cryptozoic Entertainment, creators of board and collectible card games, is bringing the world's most highly respected group of paranormal investigators/exterminators to the table top with Ghostbusters™: The Board Game. The Kickstarter begins today and runs through March 11. The game will begin shipping to backers across North America, the UK and all EU member countries, Australia and New Zealand in October 2015.
Ghostbusters™: The Board Game is a game for 1-4 players, ages 15 and up. Players choose one of the four Ghostbusters character figures (Peter Venkman, Egon Spengler, Winston Zeddemore and Ray Stantz) and then select from one of the game's pre-written scenarios, beginning a game session that lasts from 30 minutes to 2 hours, depending on the chosen scenario(s) and degree of difficulty. Each of the Ghostbusters has unique traits and talents that can assist the entire team, with highly cooperative gameplay. As players gain experience from banishing spirits, the Ghostbusters level up, gaining new abilities that help them take on greater challenges. The team can also hop in the Ecto-1, the Ghostbusters' converted ambulance, to help them quickly move through the city.
Developed by a talented group of board game professionals with decades of combined experience, the team is led by Matt Hyra (Lead Game Design & Acquisitions), Mataio Wilson (Associate Game Designer) and Adam Sblendorio (Creative Director) along with additional developers and support from skilled playtesters and the passionate family of Ghostbusters fans.
Ghostbusters™: The Board Game comes with plastic figures of the four Ghostbusters as well as Slimer, Stay Puft Marshmallow Man, Indulnas and numerous Galloping Ghouls, Gruesome Twosomes and Boogaloo. All figurines are based on the artwork and designs of Dan Schoening, the artist of IDW's Ghostbusters™ comic book. The game will come with over 40 figures, with the opportunity to purchase add-ons and exclusive figures. The board itself is made of double-sided modular pieces illustrated by Robb Mommaerts, increasing the replayability for scenarios and customization.
Cryptozoic will be offering a few options for backers. The base version of Ghostbusters™: The Board Game is available for $80 and includes four Ghostbusters figures, 40 ghost figures, 10 double-sided game board map tiles, instructions and scenarios with art from Dan Schoening, various tokens, cards and dice. The exclusive $125 Deluxe Edition comes with everything from the base game, along with a limited edition foil-stamped box, a 12"x12" giclée print, glow-in-the-dark dice, four additional game board tiles, an exclusive boss ghost figure and an over-sized "Impossible Mode" Stay Puft Marshmallow Man figure. Additional pledge levels add exclusive ghosts, new figures and much more to expand the game further.
The Ghostbusters™: The Board Game Kickstarter follows Cryptozoic's first wildly successful crowdfunding campaign for HEX: Shards of Fate, the MMO Trading Card Game which raised over $2 million from backers eager to take part in the digital trading card / Massively Multiplayer Online game. To learn more about Ghostbusters™: The Board Game visit the Kickstarter page:
https://www.kickstarter.com/projects/cze/376823796
About Cryptozoic
Founded in 2010, Cryptozoic Entertainment, Inc. is a premier developer and publisher of original and licensed board games, card games, comics and trading cards, including the DC Comics™ Deck-Building Game, The Walking Dead™ Board Game, The Big Bang Theory: The Party Game and The Lookouts comic book. Following a philosophy and core principle of "Fans First," the dedicated gamers and fans of the Cryptozoic Entertainment team are focused on producing fun and amazing products along with epic events that bring all gaming fans together as part of the Cryptozoic community. Visit www.cryptozoic.com for additional product and event information.
About Sony Pictures Consumer Products
Sony Pictures Consumer Products (SPCP) is the licensing and merchandising division of Sony Pictures Entertainment (SPE), a subsidiary of Sony Entertainment Inc., a subsidiary of Tokyo-based Sony Corporation. SPE's global operations encompass motion picture production, acquisition and distribution; television production, acquisition and distribution; television networks; digital content creation and distribution; operation of studio facilities; and development of new entertainment products, services and technologies. For additional information, go to www.sonypictures.com.