'Bloodline' Trailer: Kyle Chandler And Ben Mendelsohn Lead Netflix Family Drama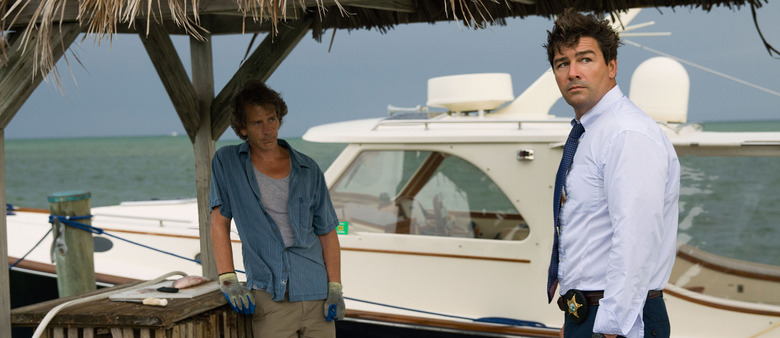 As Coach Taylor on Friday Night Lights, Kyle Chandler projected a reassuring warmth and wisdom. No matter how badly his players screwed up, he was always there to dole out sage advice or set them right with his stern yet understanding gaze.
In his new role in Netflix's Bloodline, however, it seems Chandler's the one in need of some guidance. He plays one of four adult children of a wealthy Florida Keys family, whose lives take a dark turn after the arrival of black-sheep eldest brother Danny (played by Ben Mendelsohn, because of course).
Linda Cardellini and Norbert Leo Butz play the other siblings, and Sissy Spacek and Sam Shepard are their parents. Watch the Bloodline trailer after the jump.
Netflix unveiled the Bloodline trailer on YouTube.
Netflix is playing coy about how, exactly, Danny's arrival changes things, but it seems to involve guns, fistfights, at least one explosion, and a whole lot of resentment. Whatever it is, it send the Rayburns spiraling downward until middle brother John (Chandler) is left pleading for us to understand. "We're not bad people," he says, "but we did a bad thing."
Bloodline comes from Todd A. Kessler, Glenn Kessler, and Daniel Zelman. As the creators of Damages, they already know a thing or two about crafting dark, twisty, addicting dramas. And if nothing else, that cast guarantees we're in for some top-notch performances.
All 13 episodes of Bloodline will hit Netflix on March 20.
"Bloodline" is a dramatic thriller that explores the demons lurking beneath the surface of a contemporary American family. The Rayburns are hard-working pillars of their Florida Keys community. But when the black sheep son comes home for the 45th anniversary of his parents' hotel, he threatens to expose the Rayburns' dark secrets and shameful past, pushing his siblings to the limits of family loyalty.