Jennifer Lawrence And Chris Pratt In Talks For Sci-Fi Romance 'Passengers' [Updated]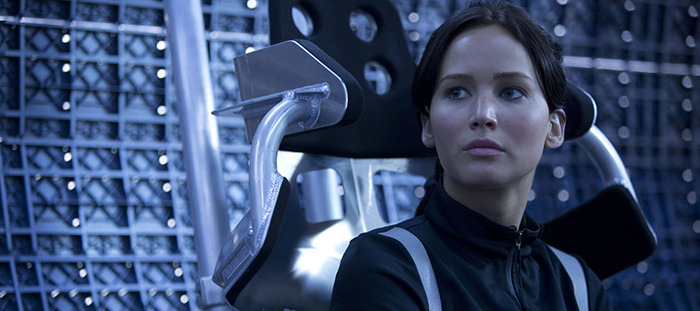 It's been a turbulent week for Sony but the studio is moving forward full-speed ahead on the long-awaited realization of Jon Spaihts' sci-fi script Passengers. Director Morten Tyldum (The Imitation Game, Headhunters) just came on to direct earlier this week, a couple months after Sony grabbed rights to the script following failed development efforts at other companies. And now Jennifer Lawrence is in early talks to play one of the two lead roles, which instantly turns Passengers into a top-tier project — assuming her schedule allows her to sign on.
Update: Just after we published this, another report revealed Chris Pratt as being in early talks for the second lead role, opposite Lawrence.Variety reports. Given his awards season heat for The Imitation Game, having Tyldum sign to direct was a big deal. Getting Lawrence on board demonstrates that Sony really sees this film as a prestige effort. Calling it a prestige effort is no surprise to anyone who has read about Passengers in the past, however. I can't think of another script that has generated such intense good will in the past decade.
Keanu Reeves had previously been attached to play the male lead, a passenger on a colonization ship traveling through deep space who wakes decades before the journey's planned end, and then wakes another passenger to share those decades with. But Reeves fell away when the pre-Sony development efforts withered. As far as we know, Tyldum is assembling an all-new cast.
The role we presume Lawrence will play — the second passenger who is awakened — has previously been linked to Rachel McAdams and Reese Witherspoon. With Lawrence on board, I wonder if there's any thought to gender-swapping the primary roles in the film. It's been many years since I scanned the script, and I can't recall a huge impediment to that concept. But it's just my curiosity talking for the moment, and the fact that we'd assume Sony will want to put Lawrence front and center.
If Lawrence signs, we'll probably see a high-profile male lead cast within days. We've heard this film is a "major priority" for Sony, and this cast certainly suggests as much.
But Lawrence has a lot to do, from promo for the last Hunger Games movie to shooting the next X-Men film and doing promotion for that, along with shooting and promoting Joy, the next film she has in the pipeline with David O. Russell, and possibly doing the James Cameron-produced The Dive.
Unsurprisingly, then, THR says that scheduling could be a problem for her.
Update: Now The Wrap says that Chris Pratt is in early talks to play the lead male role. So forget what I said ten minutes ago about hearing of a male lead "within days." And if this cast firms up with Pratt and Lawrence in the two lead roles, Passengers will immediately become a bigger movie for Sony than we would have ever expected.