Sequel Bits: 'Lego Movie 2', 'Party Down', 'Pirates Of The Caribbean 5', 'Fight Club 2'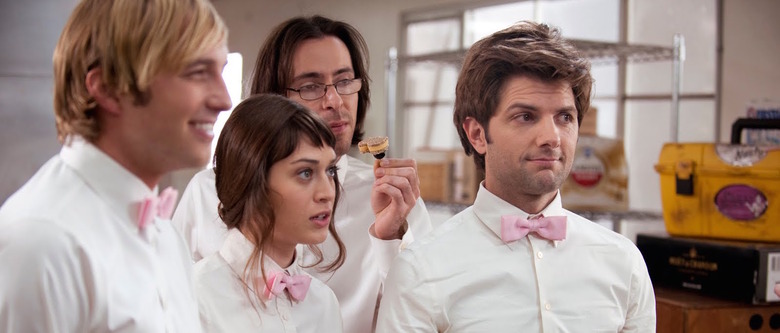 Aspiring actors, disillusioned suburbanites, and little plastic men figure in today's edition of Sequel Bits. After the jump:
The Fight Club comic book sequel launches in May
China and France will get to see Taken 3 in 3D
Pirates of the Caribbean 5 adds a few more mates
Second Best Exotic Marigold Hotel has a new poster
Martin Starr says a Party Down movie is "unlikely"
The Lego Movie 2 will introduce Emmet's sister
Mark your calendars for Chuck Palahniuk's return to Fight Club. Dark Horse Comics has announced that the comic book sequel Fight Club 2 will launch this summer, with the first of ten issues hitting May 27.
If that's not soon enough for you, there'll be a couple of other offerings between now and then to tide you over. May 26 sees the publication of Palahniuk's Make Something Up. The anthology features, among other things, a brand new short story about Tyler Durden.
And if you're still feeling impatient, swing by your local store on Free Comic Book Day (May 2). Dark Horse will be offering a comic book that revisits the ending of Palahniuk's Fight Club (which differs a bit from the ending of David Fincher's Fight Club). Check out the cover below: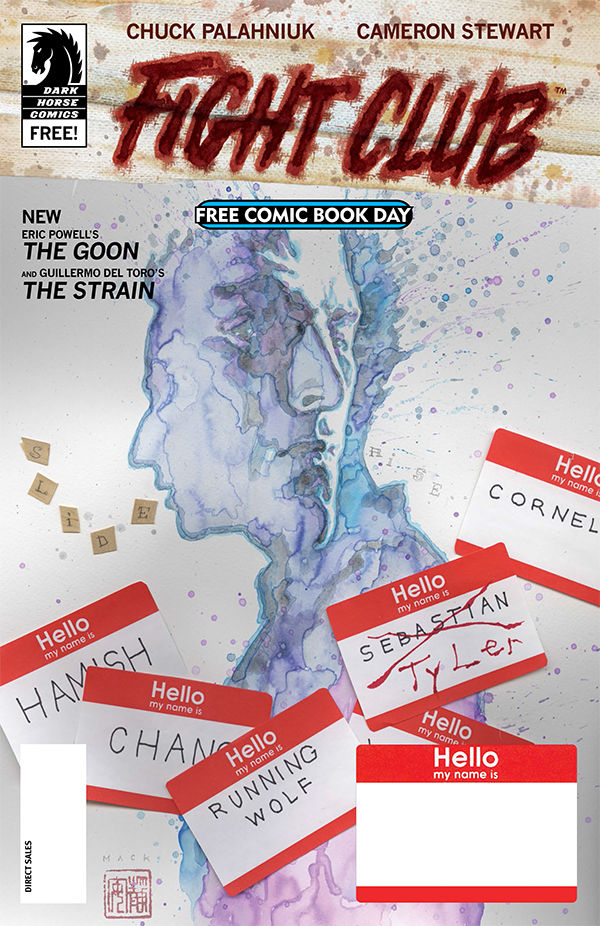 Bryan Mills is badass enough in two dimensions, but Chinese and French audiences will get to see him in three. EuropaCorp has announced that Taken 3 will open in IMAX 3D in China. It'll also play in 3D in France, after its 2D debut last month.
The company made the decision after Luc Besson's Lucy hit IMAX and 3D in China and became the most successful Chinese debut ever for a French film. "We are very careful with 3D," said EuropaCorp CEO Christophe Lambert. "Lucy's 3D version was praised by industry professionals and the audience wherever it was screened. And so will Taken 3." [THR]
Three more have boarded Pirates of the Caribbean 5. Adam Brown (Ori from The Hobbit), Danny Kirrane (Autómata), and Delroy Atkinson, are set to star in the Disney sequel, alongside Johnny Depp, Javier Bardem, Kaya Scodelario, and Brenton Thwaites. Character details have not been given.
Joachim Rønning and Espen Sandberg (Kon-Tiki) are directing, with pre-production already underway in Australia. Pirates of the Caribbean 5 sails into theaters July 7, 2017. [Variety]
Maybe The Best Exotic Marigold Hotel isn't the most unlikely franchise-starter of all time, but it's probably up there. Like most good franchises, though, it's bringing some fresh faces for the sequel — specifically Richard Gere, David Strathairn, and Tamsin Grieg. Based on the new poster, Maggie Smith does not approve of these developments.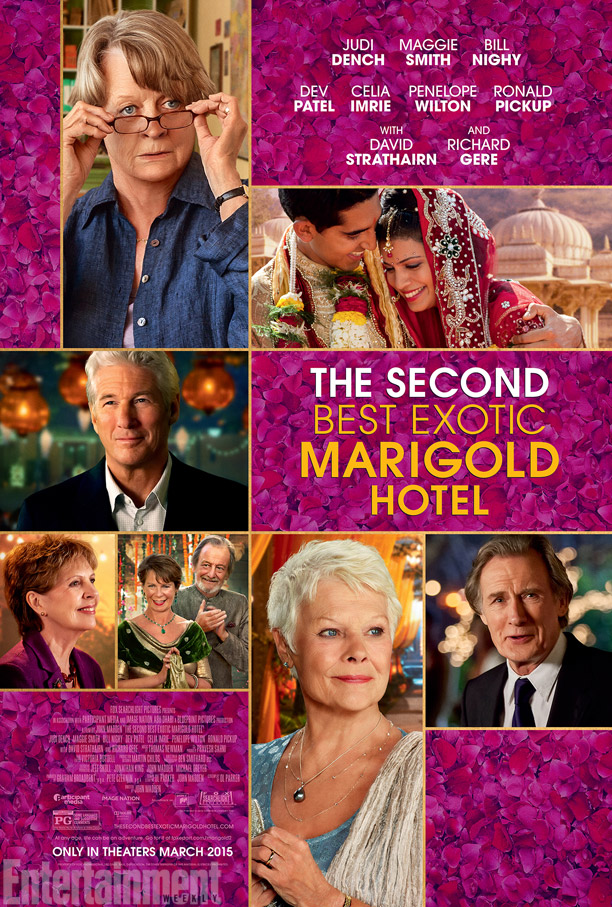 The Second Best Exotic Marigold Hotel opens its doors on March 6. Director John Madden returns, along with Judi Dench, Bill Nighy, Penelope Wilton, Dev Patel, Ronald Pickup, and Celia Imrie. [EW]
At various points over the past few years, a Party Down movie sequel has looked somewhat plausible; at various other points, it's sounded more akin to a pipe dream. Sadly, to hear Martin Starr tell it, the pendulum may have swung back to the latter side. On the bright side, though, it could return in a different form.
Said Starr:
I wish, man. [...] I'm always in hopes of that. But it does seem rather unlikely. I mean, I think it would take a lot to get everyone's schedules aligned. But it all starts with the writing, which I still think has yet to be figured out between those guys. So if ever a script gets finished, hopefully it'll be easier.
But I know they've also talked about other avenues, one being to kind of reboot the series and do five episodes or something, or find a home for it if it's not on Starz. If it is, cool, but if it's not, then finding another home for it and putting it out. But whether it's five new episodes or two extra-long episodes or some way to reignite that flame, we'd all love to do it.
Hey, a return to TV worked for Arrested Development. Kind of. Actually, that fourth season was kind of meh. Maybe it wouldn't be so bad if we just let sleeping cater-waiters lie. [AV Club]
It sounds like everything will decidedly not be awesome for Emmet in his next big screen appearance. The Lego Movie directors and The Lego Movie 2 writer/producers Phil Lord and Chris Miller have revealed that the upcoming sequel will unfold in a "weird, dystopian version of Bricksburg." As previously reported, the story will pick up four years after the events of the first film.
Fortunately, it sounds like Emmet will also have some new friends to help deal with his problems. The Lego Movie 2 will introduce Emmet's sister. No word yet on whether she'll hail from the Planet Duplo.
The Lego Movie 2 will probably land sometime after the Lego Batman spinoff, which is expected out in 2017. The other Lego Movie spinoff, Ninjago, premieres September 23, 2016. [AICN]