Silicon Valley Season 2 Trailer #2: "Synergy Bitches!"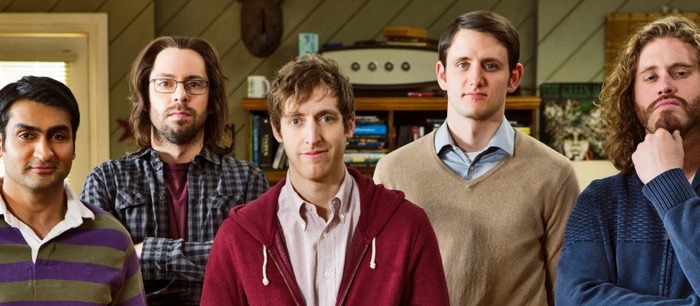 HBO has released the second Silicon Valley Season 2 trailer. The minute and a half-long trailer teases the future adventures of our nerd heroes: Thomas Middleditch, TJ Miller, Zach Woods, Kumail Nanjiani, Martin Starr and Josh Brener, back at work in the dungeon-like darkness of the tech incubator. On April 12th 2015, "this s*** gets real." Watch the Silicon Valley season 2 trailer embedded after the jump.
Silicon Valley Season 2 Trailer #2
Silicon Valley Season 2 Trailer #1
What do you think? I liked the pilot episode of Mike Judge's comedy series Silicon Valley but didn't love it. And then, every episode of the first season progressively go better until it reached the brilliance of the dick equation joke that appeared at the end of the first season. I hope season two continues at the level of those last few episodes, because I can't wait.
Mike Judge, the acclaimed creator behind "Beavis and Butthead," "King of the Hill" and Office Space, returned to the small screen last year with the first season of the hit HBO comedy "Silicon Valley," starring Thomas Middleditch (The Campaign, The Wolf of Wall Street), T.J. Miller (Cloverfield, How to Train Your Dragon), Zach Woods (In the Loop, The Other Guys), Kumail Nanjiani (Life As We Know It, Sex Tape), Martin Starr ("Party Down," "Freaks and Geeks"), Josh Brener (The Internship, "Glory Daze"), Amanda Crew (Sex Drive, Charlie St. Cloud), Matt Ross ("Magic City," "American Horror Story") and relative newcomer Jimmy O. Yang.
Silicon Valley Season 2 premieres April 12th 2015 at 10pm on HBO.