Robert Zemeckis To Direct "Sweeping Romantic Thriller" Starring Brad Pitt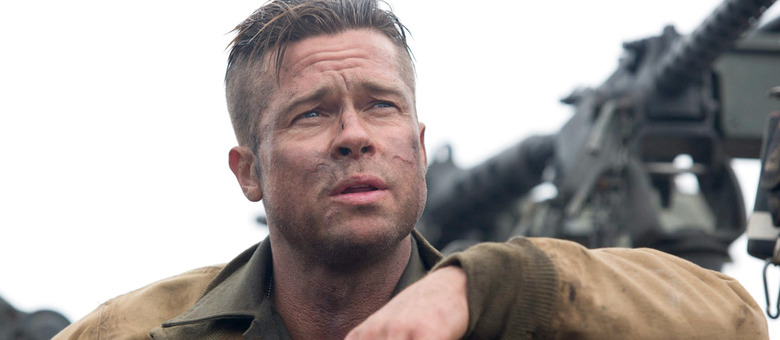 Robert Zemeckis has just lined up his next project and he's bringing along one of the biggest movie stars in the world. Brad Pitt will co-star in a currently-untitled "sweeping romantic thriller" directed by Zemeckis and written by Steve Knight. Early reports are that the film is set during World War II. Read a few more details about the Robert Zemeckis Brad Pitt film below.
GK Films and New Regency are producing the film and Paramount is distributing. The Wrap posted the news about the World War II setting, which is oddly not mentioned in this vague press release from Paramount:
Paramount Pictures, GK Films and New Regency today announced that Brad Pitt will star, and Robert Zemeckis ("FLIGHT," "FORREST GUMP") will direct, an original story by Steve Knight ("THE HUNDRED-FOOT JOURNEY," "DIRTY PRETTY THINGS") to be produced by Graham King ("RANGO," "THE DEPARTED"), who developed the project, alongside Zemeckis and Steve Starkey ("FLIGHT," "REAL STEEL").
The epic story will be produced through King's GK Films banner with Jack Rapke ("FLIGHT," "REAL STEEL"), Knight, Patrick McCormick ("BLACK MASS") and Denis O'Sullivan ("THE 5thWAVE," THE YOUNG VICTORIA") serving as executive producers.
Zemeckis' credits at Paramount Pictures include the 1994 blockbuster "FORREST GUMP," for which he won the Academy Award for Best Director. The groundbreaking film grossed $677 million worldwide and won six Academy Awards including Best Picture and Best Actor for star Tom Hanks. In 2012, the studio and Zemeckis partnered on the critically-lauded, live-action thriller "FLIGHT," which starred Denzel Washington and received two Academy Award nominations. Presently, Zemeckis is in post-production on "THE WALK," starring Joseph Gordon-Levitt, slated for an October 2015 release.
Zemeckis and Pitt aren't guys who make a movie just to make a movie. They pick good material and, for that reason alone, this movie is instantly on our radar. It's also really cool to have Zemeckis solidly back in live action. Flight may not have been a masterpiece, but The Walk has insanely good potential, and a big period war movie romance is something new for the director.
What do you think about the Robert Zemeckis Brad Pitt film?