See A 'Fight Club' Board Game Design; Read The First Pages Of 'Fight Club 2'

A Fight Club board game sounds pretty awesome, and while there isn't a real one (yet?) we've got a board designed to promote Fight Club 2, the comic book sequel written by original creator Chuck Palahniuk and illustrated by Cameron Stewart.
That sequel is coming in May, and you can also preview the first issue right now. The first six pages of the debut installment are online, and they introduce a version of the familiar narrator, now almost a decade older and going by the name Sebastian and "enjoying" married life with an increasingly uneasy Marla Singer, with whom he has a son who is starting to demonstrate some uncomfortably familiar tendencies.
Below, along with the opening of the sequel series, we've got the Fight Club board game design, and an introduction to the sequel story laid out in the form of an in-flight guide to emergency landing prep.
Note that some of the materials that follow are not safe for work, but we're not sure what else you'd expect from Palahniuk and Fight Club.
First up, check out this "guide for an emergency landing," which sets up the situation for the new series. (Click to enlarge.)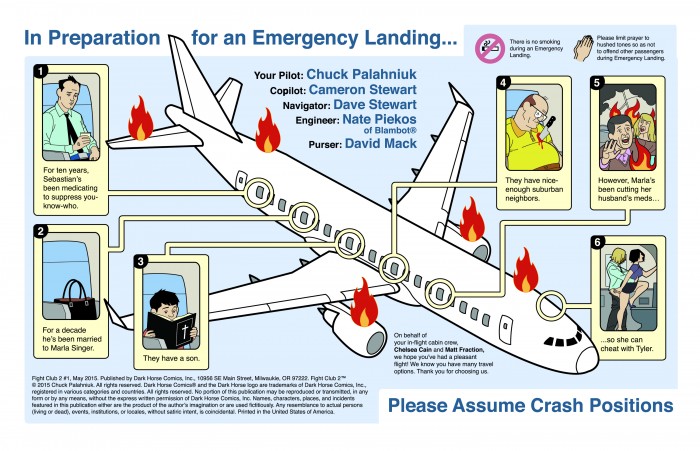 Having read that, you're prepped for the the opening to the 10-issue series, which will be previewed in a free Comic Book Day issue on May 2, and released for real by Dark Horse on May 27th. Pages via Playboy.
Finally, here's the Fight Club board game you've always wanted. Again, this is not a real product, but it's a cool look at the story. And the rules? Well, those are simple.
Roll a 6-sided die and advance accordingly.
Follow homework assignments where you land.
No matter who finishes first Tyler wins.
Tyler always wins.
 Click the board to enlarge.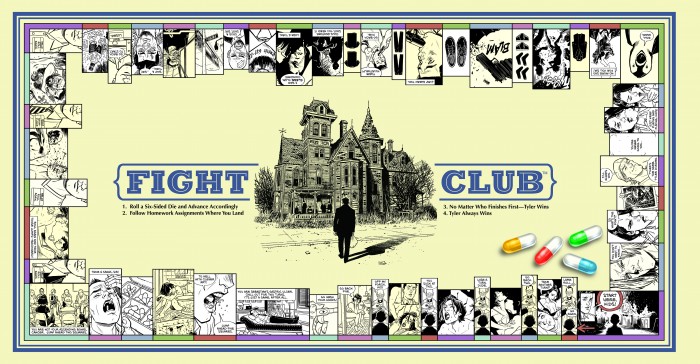 Blame these guys for all of it.