First Look: Michael Shannon And Kevin Spacey As 'Elvis & Nixon'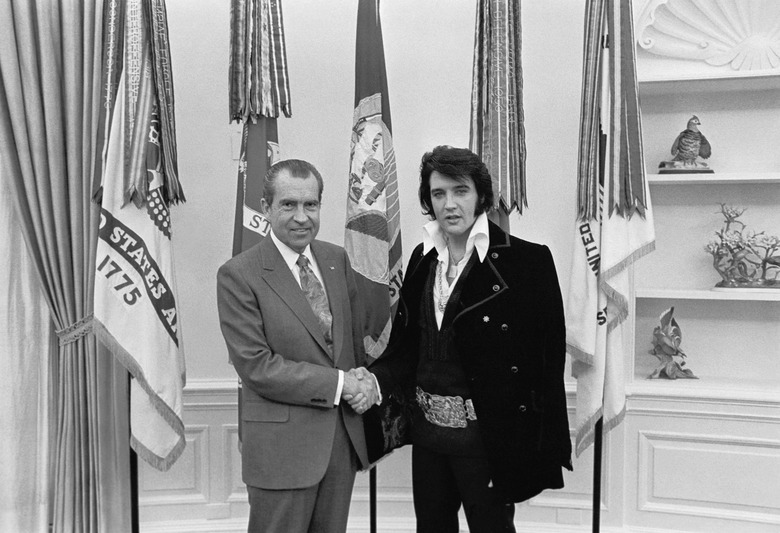 What's that saying about truth being stranger than fiction? Liza Johnson's new comedy Elvis & Nixon documents the real-life meeting between the two famous figures, played by Michael Shannon and Kevin Spacey.
The event was even weirder than the image above makes it look — Elvis wanted Nixon to make him an undercover federal narcotics agent, and Nixon actually gave him a badge. Get your first look at Elvis & Nixon after the jump. 
THR unveiled the Elvis and Nixon first look photo. What do you think they're talking about? My money's on Superman, and whether General Zod or Lex Luthor stood a better chance of defeating the Man of Steel.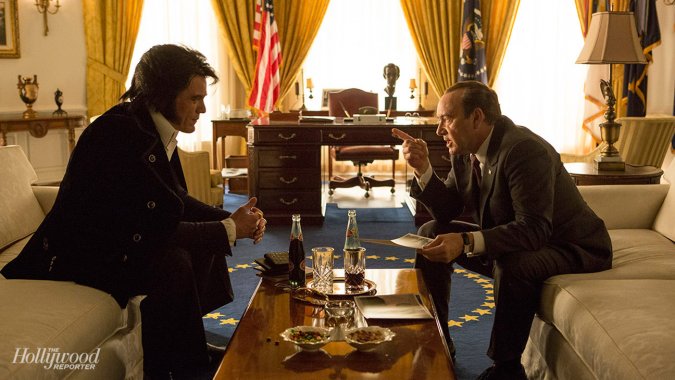 Spacey as Nixon makes sense, or at least more sense than Spacey as a man-cat. Plus, he should feel right at home on the Oval Office set, seeing as he currently stars in Netflix's House of Cards.
Shannon, on the other hand, seemed like an odd choice to play the King. It's hard to tell from here whether it's a gamble that pays off. Shannon is sitting down and in profile, so we don't get a great look at his overall appearance. Besides, whether he looks like Elvis will be less important than whether he can convincingly portray Elvis' troubled charisma.
The 1970 meeting between Elvis Presley and Richard Nixon has been the subject of much fascination. According to Priscilla Presley's memoir Elvis and Me, the musician believed the badge would allow him to "legally enter any country both wearing guns and carrying any drugs he wished." Elvis also wanted to talk about why the Beatles were "a real force for anti-American spirit."
Johnson isn't the first to be taken with the bizarre incident. It previously inspired a 1997 TV movie (in which Elvis and Nixon were played by Rick Peters and Bob Gunton) and a 2013 Drunk History episode (Jack Black and Bob Odenkirk).
Here's the synopsis for Elvis & Nixon, which also stars Evan Peters, Colin Hanks, Alex Pettyfer, Johnny Knoxville, and Tracy Letts:
Two men at the height of their powers, conscious they could not stay on top forever, both ripped with fear of the inevitable, sharing one famous private moment in the Oval office. ELVIS & NIXON recounts the morning of December 21st 1970, when the King of Rock' n Roll (Michael Shannon) showed up on the White House lawn to request a meeting with the most powerful man in the world, President Richard Nixon (Kevin Spacey). He had a very urgent request: to be sworn in as an undercover Federal Agent at large. This intimate moment in the Oval office between two men at the height of their powers has never been told.
And here's the Drunk History segment, because why not:
[References: Smithsonian, Vox]