VOTD: Jimmy Fallon Stages 'Saved By The Bell Reunion'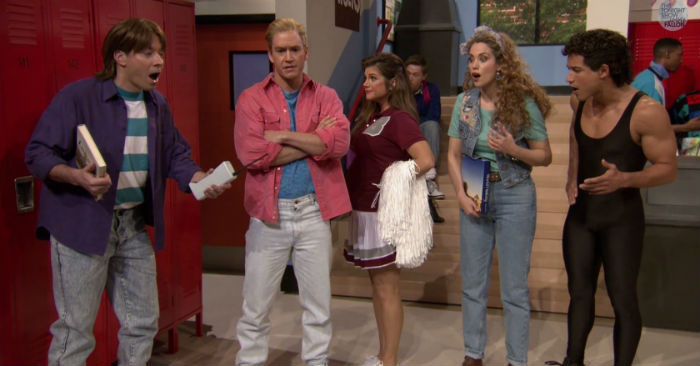 There's no real rhyme or reason why it happened, but on Wednesday's night's episode of The Tonight Show with Jimmy Fallon, the host did the impossible. He got four of the original six stars of Saved By The Bell, plus one special guest, to reunite for a skit.
Mark-Paul Gosselaar, Mario Lopez, Tiffani-Amber Thiessen and Elizabeth Berkley all appeared as their Bayside selves – along with Dennis Haskins – for a skit about Jimmy Fallon's high school life. It's probably all the Internet is going to be talking about today, so why not give it a watch below.
Here's the video thanks to Jimmy Fallon.
Saved by the Bell Reunion
As someone who grew up with Saved by the Bell and still watches repeats if it's on today, I loved this skit immensely. Just seeing these actors become these characters again was incredibly rewarding. Not to mention the non-stop cavalcade of references to both Saved by the Bell, and some recent Jimmy Fallon jokes. I'm talking Nicole Kidman, I'm talking Showgirls, I'm talking the Caffeine pill episode, this skit has it all.
Well, not all. It doesn't have Lark Voorhees or Dustin Diamond. While I'm not sure why Voorhees isn't there (there's probably some gossipy or logical explanation), Diamond was arrested in December on weapon charges. So he probably isn't going anywhere soon. Not to mention, he wrote a tell all book that he then sold to Lifetime to make into a made for TV behind the scenes movie about all his co-stars. A movie that was just horrendous. That certainly doesn't leave him in the good graces of his co-stars.
Nevertheless, skits like this are why the new generation of late night hosts are doing so well. This is hilarious, instantly memorable stuff. What did you think of the Tonight Show Saved by the Bell reunion?