New 'Furious 7' Trailer Has Pretty Much Everything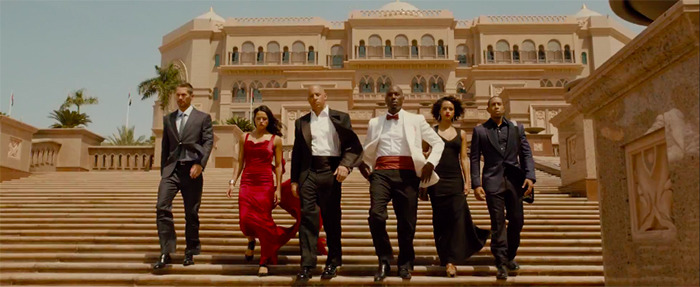 If the Super Bowl spot wasn't enough for you, here's a new Furious 7 trailer. This trailer, which runs nearly three minutes, has just about everything. First up, the late Paul Walker is front and center, which begs the question of how long-time fans will be able to watch this sequel and not break down at least a little bit.
Beyond Waker, there are a couple of huge action setpieces teased within. There's the family angle, with Vin Diesel's Dom as the unlikely patriarch. There's a whole cluster of plot threads, most prominent of which is the revenge angle featuring Jason Statham as the brother of Fast & Furious 6's Luke Evans character — and Kurt Russell is around to tell everyone just how screwed they are to have a pissed-off Statham on their tail. Check out the trailer below.
Furious 7 opens on April 3. Trailer via Universal.
Continuing the global exploits in the unstoppable franchise built on speed, Vin Diesel, Paul Walker and Dwayne Johnson lead the returning cast of Fast & Furious 7. James Wan directs this chapter of the hugely successful series that also welcomes back favorites Michelle Rodriguez, Jordana Brewster, Tyrese Gibson, Chris "Ludacris" Bridges, Elsa Pataky and Lucas Black. They are joined by international action stars new to the franchise including Jason Statham, Djimon Hounsou, Tony Jaa, Ronda Rousey and Kurt Russell. Neal H. Moritz, Vin Diesel and Michael Fottrell return to produce the film written by Chris Morgan.