'Ned Rifle' Trailer: Aubrey Plaza Is Obsessed With Liam Aiken's Dad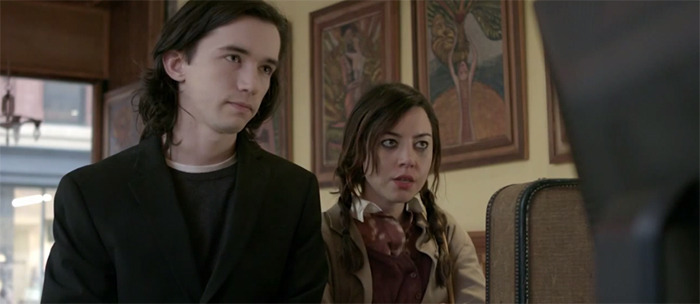 When the time came to make my most-anticipated list for 2015, there was no question that Hal Hartley's new film Ned Rifle would take a spot. Just as Richard Linklater created a surprising and unlikely trilogy of films, here Hartley completes a three-film cycle that follows the story of a garbageman whose profane poetry wins the Nobel prize and changes the world, thanks in part to the influence of a hedonistic novelist. The two previous films, Henry Fool and Fay Grim, create a sort of alternate world defined by absurdist, deadpan humor, odd espionage and literary superstardom.
In the Ned Rifle trailer you'll see many of those elements at play, along with attempted patricide, hero worship, young love, religion, and James Urbaniak running down everything that makes an audience happy. It's great!
Just a note that this trailer, being pretty long, seems to show a lot. That probably won't matter in the long run — and I haven't yet seen the film to verify whether or not this shows too much. So keep that in mind.
Ned Rifle will play SXSW, and the fest presents this trailer.
At once a saga concerning the Grim family of Woodside Queens and how their lives are turned upside down by the arrival of the self-proclaimed genius, Henry Fool, the trilogy is also an illustration of America's grappling with ideas, art, politics, and religion over the course of twenty years. In this swiftly paced and expansive conclusion, Henry and Fay's son, Ned, sets out to find and kill his father for destroying his mother's life (Parker Posey). But his aims are frustrated by the troublesome, sexy, and hilarious Susan (Aubrey Plaza).