'Magic Mike XXL' Trailer: Channing Tatum Gets Back To The Grind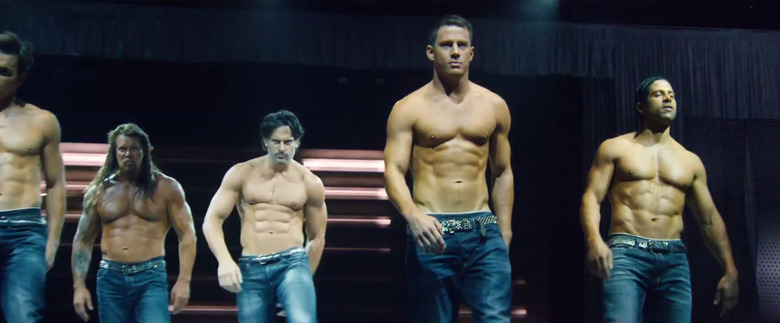 Keep your dollar bills handy, because the C**k-Rocking Kings of Tampa are officially back in action. The very first Magic Mike XXL trailer has hit the web, and it's exactly what you'd expect. In a great way. Check it out after the jump.
As promised by star Channing Tatum, the Magic Mike XXL trailer debuted on Ellen.
Full stop, this is a fantastic trailer. It's everything you'd want out of a Magic Mike XXL promo. It starts with Mike hearing the call of his people (Ginuwine's "Pony," obvs) and leads into him wielding a not-remotely-subtle phallic symbol that gives off sparks. There are shirtless men and groan-worthy puns a-plenty, and it all looks like a gloriously good time.
While first Magic Mike turned out to be somewhat more somber and contemplative than the dance-heavy promos suggested, Tatum has promised that the sequel will be broader and more comedic. The new film sees Mike and his boys (including Matt Bomer, Joe Manganiello, Kevin Nash, Adam Rodriguez, and Gabriel Iglesias, but not Matthew McConaughey) hitting the road for one last big show.
Magic Mike XXL hits July 1. Steven Soderbergh's longtime AD Gregory Jacobs directed, and Soderbergh himself serves as DP.
Picking up the story three years after Mike bowed out of the stripper life at the top of his game, "Magic Mike XXL" finds the remaining Kings of Tampa likewise ready to throw in the towel. But they want to do it their way: burning down the house in one last blow-out performance in Myrtle Beach, and with legendary headliner Magic Mike sharing the spotlight with them. On the road to their final show, with whistle stops in Jacksonville and Savannah to renew old acquaintances and make new friends, Mike and the guys learn some new moves and shake off the past in surprising ways.