'Magic Mike XXL' Poster Revealed; First Trailer Hits Wednesday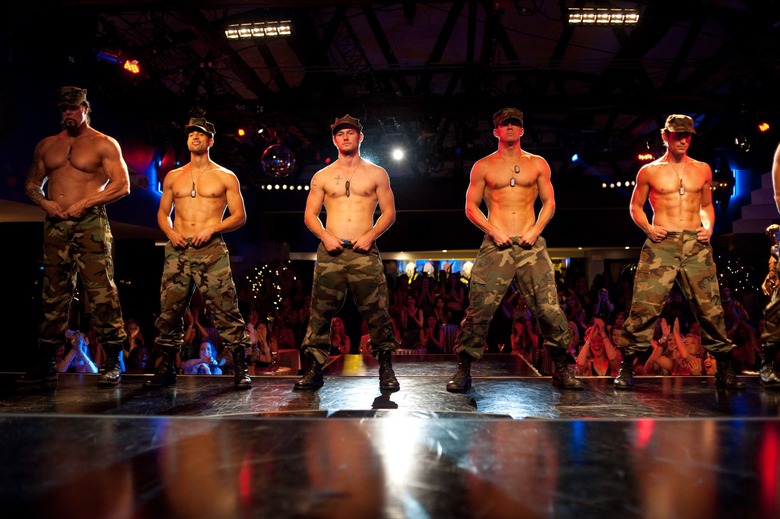 Steven Soderbergh's Magic Mike was a thoughtful examination of the American Dream, but it was also a glorious celebration of glistening manflesh. While it remains to be seen if the Gregory Jacobs-directed sequel will be the former, the first teaser poster confirms it will definitely be the latter.
The Tatum-tastic poster is just the first stop on the promotional campaign for the Warner Bros. sequel, with the very first first trailer set to hit this week. Check out the Magic Mike XXL poster and get details on the Magic Mike XXL trailer release after the jump. 
Channing Tatum debuted the Magic Mike XXL poster on Twitter. It's got the word "coming" splashed across Tatum's crotch because Magic Mike XXL is classy like that.
Look, but you can't touch...until tomorrow. Tune in to @theellenshow! #MagicMikeXXL pic.twitter.com/yNtA0ixJYD

— Channing Tatum (@channingtatum) February 3, 2015
And here's an enlarged version for your viewing pleasure.
IIn addition to Tatum, Magic Mike XXL also brings back Xquisite employees Matt Bomer, Joe Manganiello, Kevin Nash, Adam Rodriguez, and Gabriel Iglesias. Sadly, Matthew McConaughey is a no-show.
The "C**k-Rocking Kings of Tampa" are also set to make a whole bunch of new friends, including Donald Glover, Elizabeth Banks, Amber Heard, Andie MacDowell, Jada Pinkett Smith, and Michael Strahan.
Magic Mike XXL lands in theaters July 1. We'll have the trailer up tomorrow after its Ellen premiere. Here's the synopsis:
Picking up the story three years after Mike bowed out of the stripper life at the top of his game, "Magic Mike XXL" finds the remaining Kings of Tampa likewise ready to throw in the towel. But they want to do it their way: burning down the house in one last blow-out performance in Myrtle Beach, and with legendary headliner Magic Mike sharing the spotlight with them. On the road to their final show, with whistle stops in Jacksonville and Savannah to renew old acquaintances and make new friends, Mike and the guys learn some new moves and shake off the past in surprising ways.