New 'Steve Jobs' Photos: See Michael Fassbender As Jobs And Seth Rogen As Woz [UPDATED WITH RELEASE DATE]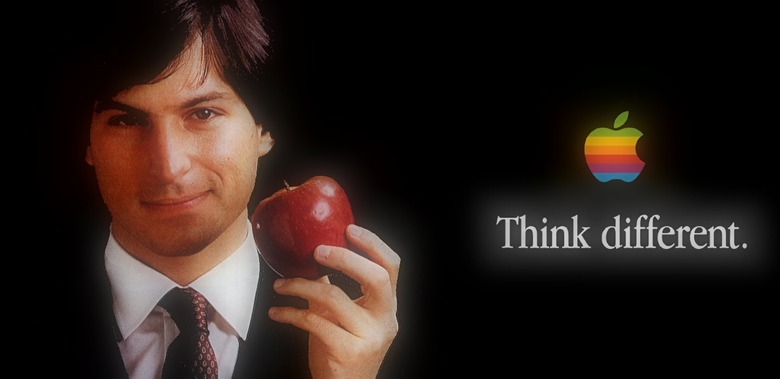 Those two men walking down the street might look like Michael Fassbender and Seth Rogen, but they're actually Steve Jobs and Steve Wozniak, the co-founders of Apple. Director Danny Boyle is currently filming Steve Jobs, an Aaron Sorkin-penned film about the Apple entrepreneur. Production for the film is currently taking place in Northern California. Though we posted some super-blurry images of the actors in their roles a few days ago, now some super-clear pics have hit the net. Below, see new Michael Fassbender Steve Jobs and Seth Rogen/Steve Wozniak photos.
UPDATE: Universal has announced the release date for Steve Jobs. It's October 9, 2015.
The images of Fassbender and Rogen are available on The Daily Mail. At that link, you can see both actors walking and talking as well as director Danny Boyle.
First look: Michael Fassbender as Steve Jobs on set of film about Apple co-founder's life http://t.co/nrPBu0Mj3N pic.twitter.com/0MYyj9oQKX

— Daily Mail Celebrity (@DailyMailCeleb) January 31, 2015
What you notice about both the photo above, but especially the ones at the top link, is that Fassbender kind of just looks like himself. Yes he's got the early Jobs haircut, and Jobs was known earlier in his life to wear more dapper clothing, but it's not the jeans, black t-shirt, shaved-head icon we think of today. Steve Jobs centers on three key events in Jobs life: the original Mac; Jobs's NEXT cube computer; and the Apple iMac. That means it only goes up till 1998 so though there will be some other flashbacks and stuff, it doesn't really get into the modern Internet era, or Jobs' passing.
Which is all to say, Sorkin and Boyle are making a very unique version of Jobs' life, and these photos convey that.
UPDATE: The release date has been revealed as October 9, 2015, which all but guarantees a premiere at the Toronto International Film Festival. Here's the new official synopsis:
Set backstage at three iconic product launches and ending in 1998 with the unveiling of the iMac, STEVE JOBS takes us behind the scenes of the digital revolution to paint an intimate portrait of the brilliant man at its epicenter.
STEVE JOBS is directed by Academy Award® winner Danny Boyle and written by Academy Award® winner Aaron Sorkin, working from Walter Isaacson's best-selling biography of the Apple founder.  The producers are Mark Gordon, Guymon Casady of Film 360, Scott Rudin and Academy Award® winner Christian Colson.
Michael Fassbender plays Steve Jobs, the pioneering founder of Apple, with Academy Award®-winning actress Kate Winslet starring as Joanna Hoffman, former marketing chief of Macintosh.  Steve Wozniak, who co-founded Apple, is played by Seth Rogen, and Jeff Daniels stars as former Apple CEO John Sculley.  The film also stars Katherine Waterston as Chrisann Brennan, Jobs' ex-girlfriend, and Michael Stuhlbarg as Andy Hertzfeld, one of the original members of the Apple Macintosh development team.