MCU MVP Joss Whedon Wants To Build His Own Universe, Probably Doesn't Want To Direct 'Captain Marvel'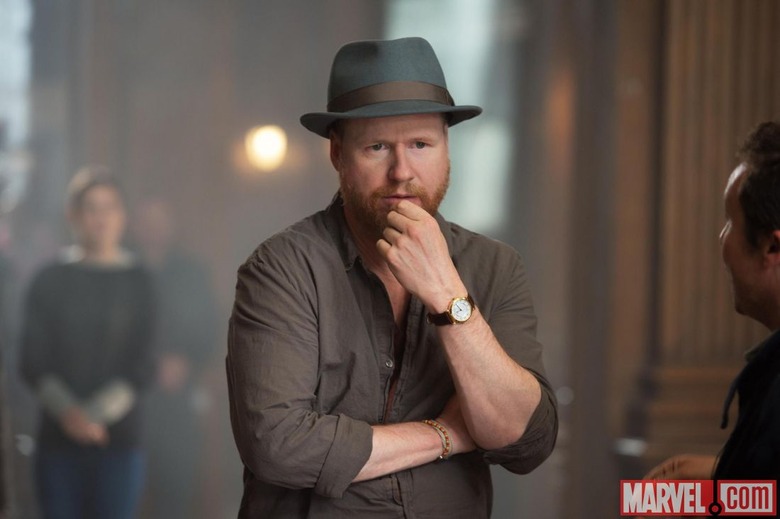 Joss Whedon has spent most of the past several years building the Marvel Cinematic Universe, first with The Avengers, then with Agents of S.H.I.E.L.D. and now Avengers: Age of Ultron. And he's certainly done great work within that universe. But now he's sounding ready to move on.
In a new interview, Whedon reveals a desire to create his own universe — maybe something like "turn-of-the-century female Batman," or "Sam Fuller meets Edward Gorey." Consider us sold. Read the Joss Whedon universe comments, plus his explanation of why he (probably) won't direct Captain Marvel, after the jump. 
While Marvel hasn't officially announced a director for Avengers: Infinity War Parts 1 and 2, Whedon has previously said he "couldn't imagine doing this again." Meanwhile, Captain America: The Winter Soldier directors Joe and Anthony Russo are said to be the favorites to take over at the helm.
So it's sounding more and more like Whedon's days in the MCU may be limited. He's ready to move on and build something genuinely new, as he told Buzzfeed:
[T]he biggest thing for me is that I need to do something that I create myself. It's been way too long since I created a universe. The last thing I did before The Avengers was [directing an episode of] Glee, and in between I did Much Ado About Nothing. So I haven't created my own universe for over five years. That feels wrong. You know, my own universe might be a book of haiku. I'm not necessarily saying I've got a grand scheme.
So, what kind of new universe might Whedon build? The filmmaker throws out a few very intriguing ideas:
I will say that when I was thinking about, Well, if I wasn't going to do Avengers 2, what would I want to do? — of course the first thing I thought of was "turn-of-the-century female Batman." Not Batman actually. But, you know, something cool. One person. Can't stress that enough. Movie about one person — not a team, not 10, just one. But [I would] do a nice sort of hard action movie that combined all my favorite things. Something that would be the love child of Sam Fuller and Edward Gorey. You know, I've had many thoughts since then. Oh, I could do this! Oh, I could do that! But it is my instinct to want to tell those stories.
To be clear, it doesn't sound like Whedon is saying a "turn-of-the-century female Batman" or "love child of Sam Fuller and Edward Gorey" project is definitely coming. It seems more like he's just spitballing. But they do sound just perfect for him, don't they?
The "female Batman" idea especially sounds up Whedon's alley, since he's been very vocal about the dearth of female-led superhero movies. You might think he'd be eager to jump on Marvel's Captain Marvel, now that it's officially been announced. He concedes, "I would never rule anything out, because I like working here." But overall, it sounds like she's not his type:
Captain Marvel I don't know as well. There have been a few [versions] of her. I have the first issue of Ms. Marvel, back when she was that, and had the Farrah hair. My only issue with her is that she always felt sort of on top. She was very driven. A winner. I always like to dig into the soil of things to find my heroes, if I can.
That's okay — we'll take the "turn-of-the-century female Batman" if and when you get to it. Please and thank you.
Whedon's Avengers: Age of Ultron opens May 1.