First Look: Sandra Bullock's 'Minions' Character Scarlet Overkill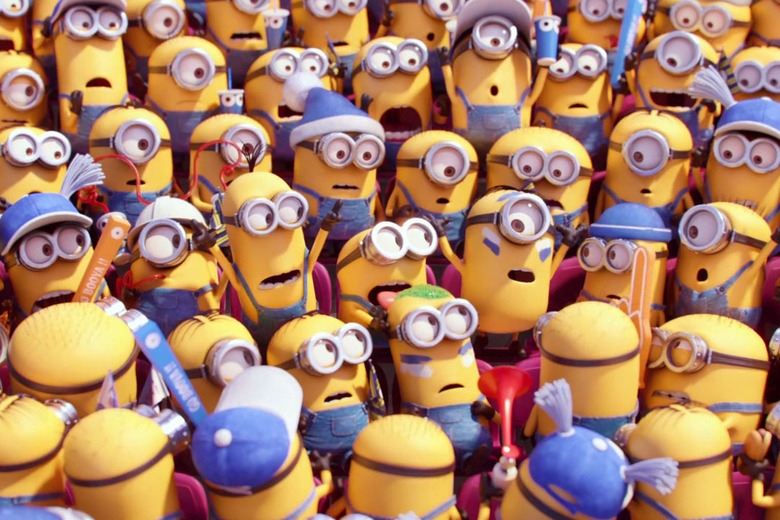 The term "America's Sweetheart" is too reductive to apply to someone like Sandra Bullock, but there's no question that we see Bullock as a positive figure, even a hero. But she voices a villain in Minions, the film spun off from the Despicable Me franchise. We'll see a trailer for the film tomorrow. For now, get your first look at Scarlet Overkill, the Sandra Bullock Minions character, along with some info about the role she plays.
Minions tells the origin of the little yellow creatures, who have "historically hurt their beloved evil masters throughout history," being part of the end of everyone (and everything) from the Tyrannosaurus rex to Genghis Khan and Napoleon. They go underground for years, but then three Minions, Kevin, Stuart and Bob, go above once more to find a new evil leader. It's the 1960s, and Scarlet Overkill is the baddie of choice, paired with her villainous husband Herb Overkill (Jon Hamm).
(Hamm's character seems to be named after the Parliament lyric which also provided the name for '90s band Urge Overkill, which recorded the cover of 'Girl, You'll Be a Woman Soon' heard in Pulp Fiction.)
Here's Scarlet:
Speaking to USA Today, Minions producer Chris Meledandri, who is also head of the animation studio Illumination Entertainment, said,
Scarlet Overkill has fantastic hair, wears great clothes and has a lethal uppercut. When we turn her loose on the world, she is going to come out standing on top. ... Scarlet has all the gadgetry and accouterments of villainy. This is a side to Sandra Bullock we haven't seen before. She is really enjoying playing with this villainy. But underneath there's a character you cannot help but fall in love with.
Then Pierre Coffin, who directed the film with Kyle Balda, says,
Scarlet is an unusual supervillain. She is a dangerously charming woman, which could not have been easy in the late 1960s.
Minions plays in theaters beginning on July 10, 2015.