Pretty People Frown Intensely In Hi-Res 'Game Of Thrones' Season 5 Images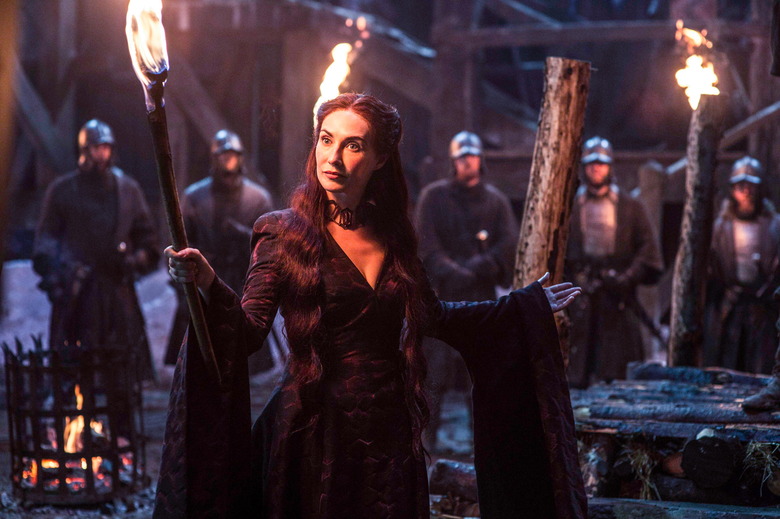 Friday brought us the first real trailer for Game of Thrones Season 5, but if you still can't get enough we also have a batch of hi-res photos for you to feast your eyes on. The gallery includes some favorites who were left out of that trailer, including Brienne (Gwendoline Christie) and Pod (Daniel Portman), as well as new characters like Doran Martell (Alexander Siddig) and the High Sparrow (Jonathan Pryce).
On top of all that, there's also a pair of featurettes showing how Game of Thrones went from the small screen to not just the big screen, but the biggest screens in the world. Check out the Game of Thrones Season 5 images and Game of Thrones IMAX featurettes after the jump. 
[HBO via Watchers on the Wall]
It's surely not a spoiler to suggest that things will get worse for the Seven Kingdoms before they get better. As in other seasons, the conflict over the Iron Throne takes place behind closed doors as much as it does on the battlefield. Varys (Conleth Hill) and Tyrion's (Peter Dinklage) schemings have the potential to sink the entire Lannister empire, if Margaery (Natalie Dormer) and her big fake smile don't manage it first.
Meanwhile, no one but Stannis (Stephen Dillane) seems to appreciate that Jon Snow (Kit Harington) and the Night's Watch are fighting their own battle up on the Wall, with possibly major consequences for the rest of the kingdom. And Lord knows what Arya (Maisie Williams) is up to these days, but you probably don't want to get in her way when she's got Needle in her hand and that grim determined look on her face.
But that's all stuff for next season. To recap the season that just was, consider heading over to your local IMAX to explore Westeros in jumbo-sized glory.
The Game of Thrones IMAX presentation, which consists of the last two episodes of Season 4 and the new trailer for Season 5, is in theaters now. Game of Thrones Season 5 premieres on HBO April 12 at 9 PM.