'Ted 2' Super Bowl Spot Tries To Steal Tom Brady's Precious Bodily Fluids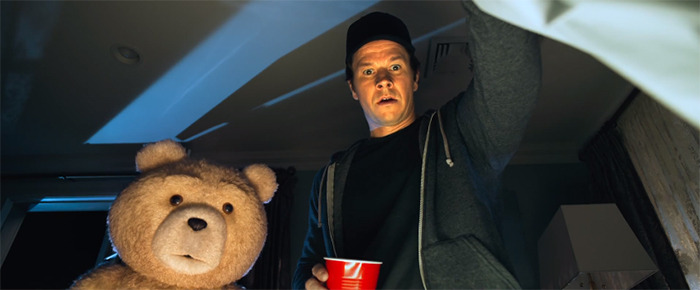 Mark Wahlberg and Seth MacFarlane return for Ted 2, in which Wahlberg plays an adult whose childhood toy has come to life — and now the sentient teddy bear wants to have a child. That poses some obvious potential problems, and the Ted 2 Super Bowl spot is kind of a mini-heist scenario showing how the duo attempts to deal with the situation. Specifically, they try to get Tom Brady to donate a little genetic material to the process... except that he doesn't know that's about to happen.
This spot doesn't even get into all the real meat of the story — that Ted wants to be legally declared human, which puts him before a judge with the help of a lawyer played by Amanda Seyfried. But why waste time on that stuff when there's a football-appropriate sequence to riff on?
Ted 2 opens on June 26.
Seth MacFarlane returns as writer, director and voice star of Ted 2, Universal and Media Rights Capital's follow-up to the highest-grossing original R-rated comedy of all time. Joined once again by star Mark Wahlberg and fellow Ted writers Alec Sulkin & Wellesley Wild, MacFarlane produces the live action/CG-animated comedy alongside Bluegrass Films' Scott Stuber, as well as John Jacobs and Jason Clark.