'Unfinished Business' All-Ages And Red-Band Superbowl Spots Borrow 'Like A Boss'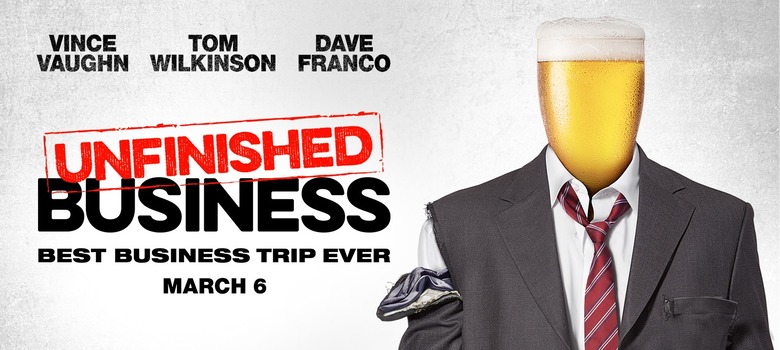 There are all-ages and adults-only versions of the new Unfinished Business Super Bowl spot, which shows off the comedy from Ken Scott, starring Vince Vaughn, Tom Wilkinson, and Dave Franco as a trio of unlikely colleagues who head to Europe in order to make a big business deal. Unfortunately, they run across a few of Vaughn's old colleagues, played by Sienna Miller, James Marsden, and Nick Frost, who are trying to make the same deal. There's a lot of drinking and shenanigans as everyone embarrasses themselves en route to success and/or failure. And this time it's all cut to The Lonely Island's track 'Like a Boss.'
First up, here's the all-ages version of the spot, which you'll also see broadcast on TV today:
Here's the slightly more dirty red-band version:
Unfinished Business opens on March 6. Red-band via IGN.
A hard-working small business owner (Vince Vaughn) and his two associates (Tom Wilkinson, Dave Franco) travel to Europe to close the most important deal of their lives. But what began as a routine business trip goes off the rails in every imaginable – and unimaginable – way, including unplanned stops at a massive sex fetish event and a global economic summit.