The 'Mass Hysteria' Art Show By 100% Soft Will Blow Your Mind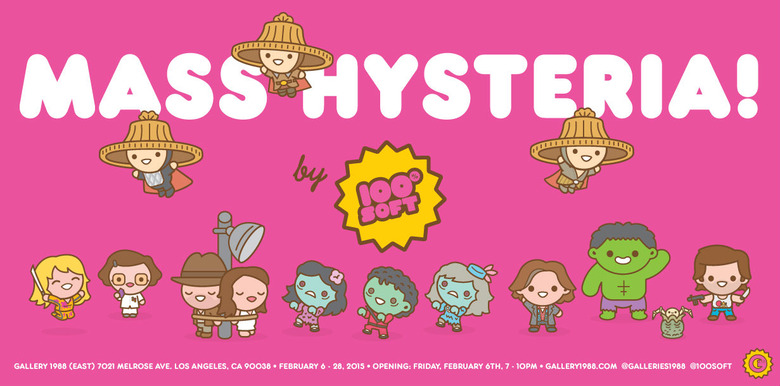 They say opposites attract, and in art, the idea of mixing "cute" and "violent" helps prove the saying. 100% Soft, a California based artist, has a very distinct, very "cute" style where all the characters are small, sweet and cherubic. He's had many pieces in lots of different shows but this week, he's having his first solo show and the work is absolutely incredible.
The show is called Mass Hysteria and it's a collection of art featuring massive gatherings and action scenes from your favorite movies, TV and music. It opens at 7 p.m. February 6 at Gallery 1988 East in Los Angeles.
Some examples of this "Mass Hysteria" is the end of The Avengers, the Crazy 88 in Kill Bill, the hallway in Oldboy, the finale of Raiders of the Lost Ark and many other mass gatherings in pop culture, all viewed through that cute little filter. The results are just beautiful and gory and awesome. In a phrase: mind-blowing. Check out a small sample of the 30 + images in the Mass Hysteria art show below.
Here are just a few of the pieces in 100% Soft's Mass Hysteria art show. The show opens at 7 p.m. February 6 at Gallery 1988 East, 7021 Melrose Ave. Los Angeles, CA and remains on display through February 28. Any remaining prints go on sale February 7.
There are over 30 pieces in the show, the majority of which are 16 x 20 inch prints in editions of 20 and 30. There are also some 5 x 5s, some panoramics and even one that's 9.5 feet long.
100% Soft is actually Truck Torrence and I asked him how he came up with the name and about the inspiration for the show. Here's what he had to say:
I think I started using 100% Soft because i wanted to create something that wasn't just about myself but still had a really distinct and recognizable look. It's a guideline for how I make things. I want everything to be soft-looking, like you can squeeze it. Everything should be soft. Everything should be kawaii. Even the dark stuff. I like being able to take something that might have a complex design and distill it down to it's basic elements. I basically just try and imagine what it would be like cuddling a super cute xenomorph.
1988 asked me to do the show about a year and a half ago, and I think I let it percolate for about 4 or 5 months before I ultimately decided on a theme. Some of the first pieces I did for 1988 were big crowd-based prints, and so I wanted to continue to explore that. I made two lists: stuff that would work well within the theme, and stuff that I had always wanted to do a print of. Fortunately there was a lot of crossover there. I began really intensive work on it just about a year ago and found that some properties in my list worked better than others, so I kept adding and changing things along the way.
For more on the artist, visit @100soft on Twitter and Instagram or 100percentsoft.com