Sundance Breakout 'Dope' Gets Movie Poster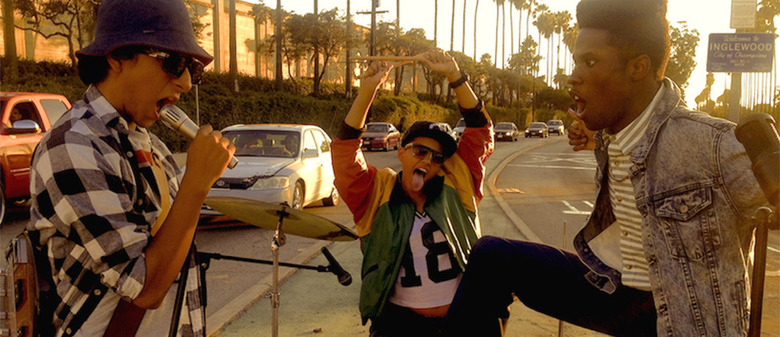 Update from editor Peter Sciretta: Dope executive producer Pharrell Williams just revealed the film's official poster on Instagram. Check it out after the jump.
Dope Movie Poster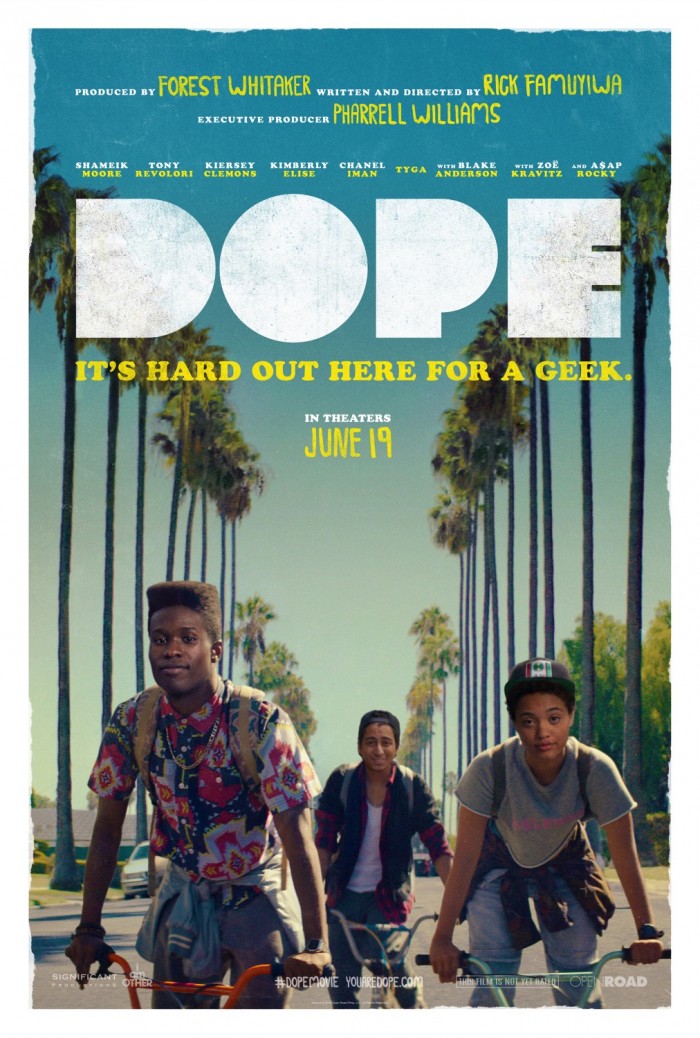 Germain's original story from January 30 2015 follows.
One of the best films at the 2015 Sundance Film Festival, Dope, has just been slotted onto the release calendar. Open Road acquired the film for $7 million very early at the fest, and have given them film a release date of June 12. Read more about the Dope release date below.
So what is Dope? You can read Peter's review at this link, but I'll chime in with a bit. It's a modern day high school movie that becomes a heist movie, set in the gang-ridden area of Los Angeles neighborhood called The Bottoms, with lead characters who are nerds obsessed with the Nineties. It's got the high energy of Go or Clueless but with hints of Boyz N The Hood and a soundtrack out of a '90s teen movie. Dope is an exciting, entertaining, surprising great film that audiences are really going to like.
The only other release on June 12 is a little film called Jurassic World. That will certainly be the talk of the weekend but expect Dope to get lots of buzz too. It's an awesome movie.
Dope is written and directed by Rick Famuyiwa. It stars Shameik Moore, Tony Revolori, Kiersey Clemons, Blake Anderson, Zoë Kravitz and A$AP Rocky. Here's the trailer:
And here's the Sundance description:
Malcolm is a high school geek with a high-top fade, carefully navigating life in The Bottoms, one of the toughest neighborhoods in Inglewood, California. He and his fellow outcasts share a voracious appreciation for all things '90s hip-hop, opting to sport Cross-Colours and Z. Cavariccis at the risk of being clowned at school. He dreams of attending Harvard, but first he has to make it home every day. When a drug dealer takes a shine to Malcolm and invites him to his birthday party, Malcolm's crew is swirled into a hilarious blender of offbeat characters and bad choices where redemption can only be found in Bitcoin.