'Amira & Sam' Trailer: In Which Martin Starr Finally Gets To Be The Romantic Lead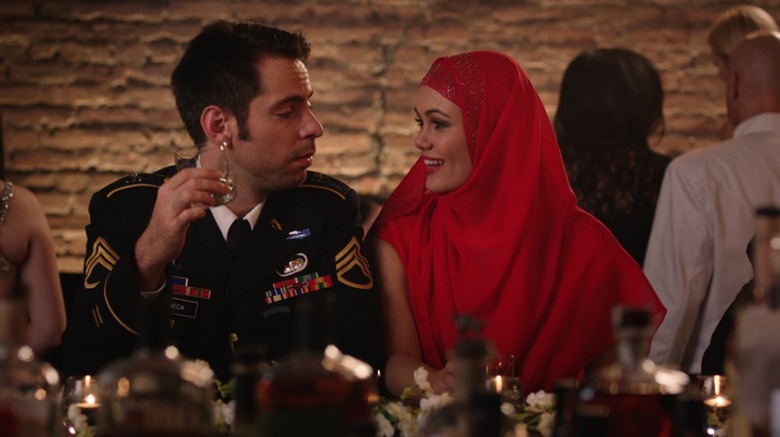 Martin Starr has been all over the place since Freaks & Geeks, but more often than not he's relegated to a supporting role as a geeky weirdo. It's a treat, then, to finally see him take center stage in Amira & Sam. And as a straightforward romantic lead, no less.
The charming trailer features Starr as an Army vet trying to re-adjust to civilian life in New York City. He befriends and then falls for a lively Iraqi woman (Dina Shihabi) suffering immigration troubles. Check out the Amira and Sam trailer after the jump.
Drafthouse Films debuted the Amira and Sam trailer.
Does Amira & Sam look sugar-sweet and on-the-nose? Yes. Does it look totally lovable? Also yes. It's about time someone recognized Starr's potential as a leading man. He might be the most underrated of that whole Apatow crowd. His co-star Shihabi is a relative newcomer, but even in this trailer it's clear she's got charm in spades.
Amira & Sam is available in theaters and on demand today. Sean Mullin directed, and Paul Wesley (of Vampire Diaries fame) also stars.
Rousing, smart, and sweet, Amira & Sam is a confident feature debut from writer-director Sean Mullin, and follows Sam (Martin Starr, "Freaks & Geeks", "Silicon Valley"), an army veteran adapting back to civilian life after a lengthy tour overseas. Upon reuniting with his unit's former Iraqi translator in New York City, he meets Amira (newcomer Dina Shihabi), his war buddy's niece; suspicious of soldiers, she wants nothing to do with him. However, when Amira runs into immigration trouble, Sam offers to keep her safe at his apartment. After a rocky start, their unlikely friendship starts to blossom into something more.
Meanwhile, Sam's cousin Charlie (Paul Wesley, Before I Disappear, "The Vampire Diaries") offers him a lucrative opportunity at his hedge fund, helping to secure wealthy veterans as new clients. However, all is not as it seems, and Amira and Sam soon find themselves faced with mounting obstacles in order to stay together.