Ernie Hudson Weighs In On The New 'Ghostbusters' Cast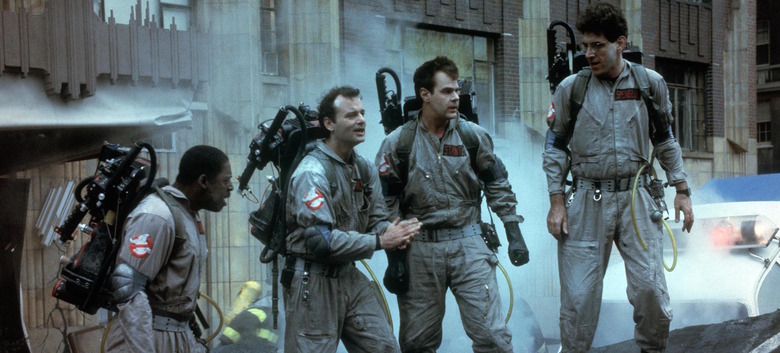 Dan Aykroyd has professed to being "delighted" by the new Ghostbusters cast, and Bill Murray was sold on the lady-centric idea from the get-go. Now it seems Ernie Hudson is coming around, too.
Though Hudson previously said an female cast "would be a bad idea," he now says the cast looks "phenomenal." More on the Ernie Hudson Ghostbusters comments after the jump. 
Following Tuesday's reports that Kristen Wiig, Melissa McCarthy, Kate McKinnon, and Leslie Jones would lead Paul Feig's Ghostbusters reboot, Hudson initially responded on Twitter with a cryptic "no comment."
But that tweet seems to have been deleted, and he now tells THR, "Four fiercely funny, foxy, females busting ghosts... phenomenal!" He also reiterated those sentiments in a new tweet:
"Four fiercely funny, foxy, females busting ghosts ... phenomenal!"#Ghostbusters #Ghostbusters2016 pic.twitter.com/wC8bSniGFS

— Ernie Hudson (@Ernie_Hudson) January 29, 2015
Last fall, Hudson expressed his reservations about Feig's all-female Ghostbusters reboot in a conversation with The Telegraph:
I heard it was going to be a total reboot, and that it would have nothing to do with the other two movies. If it has nothing to do with the other two movies, and it's all female, then why are you calling it Ghostbusters?
I love females. I hope that if they go that way at least they'll be funny, and if they're not funny at least hopefully it'll be sexy. I love the idea of including women, I think that's great. But all-female I think would be a bad idea. I don't think the fans want to see that.
Maybe it will come out and be the most amazing thing, but in my opinion I think it would be wrong to do another movie that didn't include the guys. And that didn't include me!
Perhaps Hudson changed his mind after seeing the great cast Feig put together. Or maybe he just realized there was no point in fighting it anymore. Especially if he wants in. Feig has said he'd welcome back any original cast member "with open arms," after all.
With Hudson's blessing, it seems all of the original Ghostbusters are feeling good about the new Ghostbusters. Earlier this week, Aykroyd issued a statement saying, "The Aykroyd family is delighted by this inheritance of the Ghostbusters torch by these most magnificent women in comedy."
Murray hasn't yet commented publicly on the new cast. However, he suggested McCarthy and Wiig for the film back in September. Unless he has it in for McKinnon or Jones, he's probably cool with the casting. And we can assume original director Ivan Reitman is too, since he's producing.
Feig's Ghostbusters lands in theaters July 22, 2016.