An American Version Of 'Black Mirror' Is In The Works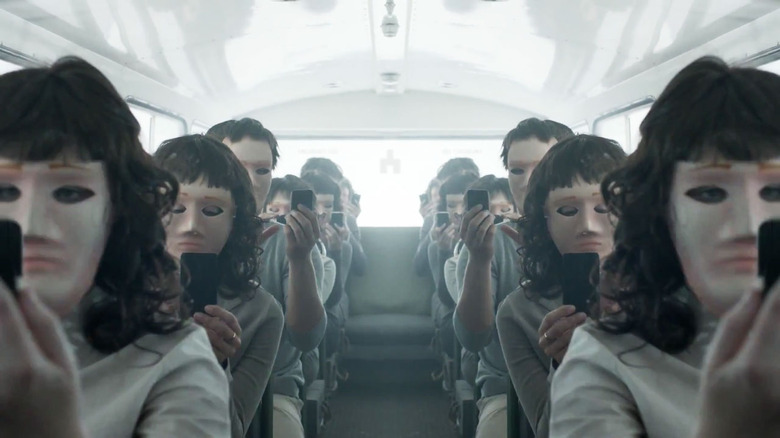 American audiences finally got the chance to dig into Black Mirror last month when the acclaimed British series hit Netflix. And now that we've acquainted ourselves with its excellence, we could be getting our own version of Black Mirror in the near future.
A U.S. take on the sci-fi anthology show is in in the works, as confirmed by production company Endemol. More on the developing Black Mirror US version after the jump. 
Variety reported the news from an industry conference in Washington, D.C. Charlie Corwin, co-chairman and co-CEO of Endemol Shine North America, revealed that "there is a plan" to adapt the show for the U.S. As for why he wants to make an American version if Black Mirror, Corwin enthused that the original Black Mirror creator Charlie Brooker and producer Annabel Jones "have touched on something and I agree – we need more."Black Mirror can loosely be described as a modern sci-fi version of The Twilight Zone. Each episode of the anthology series features an entirely new cast, setting, and storyline. What remains constant is its focus on our relationship to technology, both in the present and in the not-too-distant future. The title refers to the shiny screen of a computer, phone, or television.
The show isn't for everyone, as it gets pretty dark and disturbing at times. (The very first episode centers around a demand that the prime minister screw a pig on live television.) Nevertheless, Black Mirror was fawned over by critics and viewers. It's also caught the attention of Hollywood heavyweights like Robert Downey Jr., who optioned the third episode ("The Entire History of You") in 2013 for a feature film adaptation. 
American adaptations of British show have a spotty track record. For every House of Cards or Shameless, there's a Skins or an IT Crowd. But it's not hard to imagine a U.S. version of Black Mirror taking off. Its themes are as relevant in the States as they are across the pond, and the anthology format should give the U.S. team a lot of creative freedom.
The only real downside would be if the Americanized Black Mirror lacked Brooker's unique insight — but there, too, it seems we're in luck. Speaking last month, Jones said Brooker would serve as showrunner for any U.S. adaptation. However, Endemol hasn't yet confirmed his involvement.
Would you be into an American version of Black Mirror, or do you want the Brits to hold onto this one?