Karl Urban Also Rumored For 'Suicide Squad', Plus: Margot Robbie Talks Harley Quinn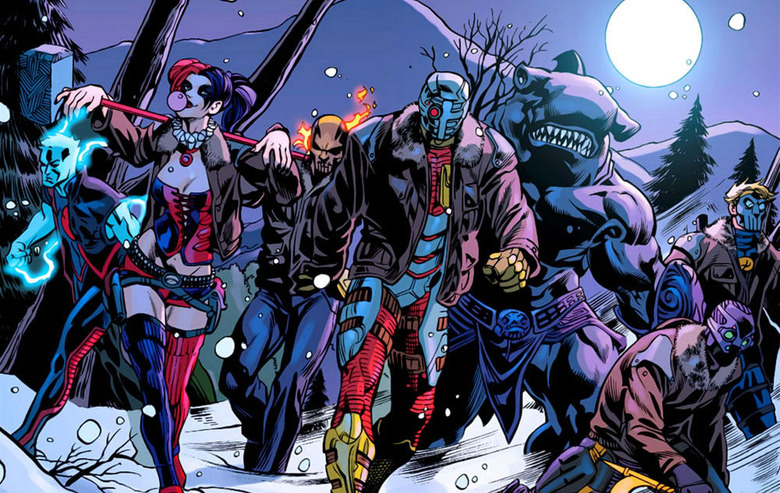 Warner Bros. put a bunch of Suicide Squad rumors to rest last month when they officially announced the cast. Since then, though, a bunch of other Suicide Squad rumors have sprung up.
The latest indicates that Karl Urban, Ed Harris, and Jason Clarke are also in the mix for various roles, while Gary Sinise's character (if indeed he is involved) might not be who you think it is. Plus, Margot Robbie talks about Brooklyn girl Harley Quinn. Get the latest Suicide Squad casting rumors after the jump.
JoBlo unleashed this latest wave of Suicide Squad rumors. As usual, we'll stress that these are all rumors — not confirmed information from Warner Bros. Nevertheless, be warned that potential spoilers lie ahead.
Here's the quick and dirty bullet-point version of their report:
Karl Urban is being eyed to replace Tom Hardy as Rick Flag, along with Joel Edgerton and Jon Bernthal. Urban was also recently rumored for another WB/DC release, Aquaman.
Rick Flag's father Rick Flag Sr. is a character in the film, and Ed Harris and Max Martini are in the running to play him.
Jason Clarke is being considered for Deathstroke, as is Joe Manganiello. The character will be an assassin working against, not with, the Suicide Squad.
Gary Sinise is playing General Sam Lane (Lois' dad), not General Eiling.
The Thinker will appear in the film. No casting has been announced and Geoffrey Rush has already passed.  
There's much more where that came from, including more details on the Joker, the Enchantress, and that potential Batman cameo — click over to JoBlo for the rest. 
Meanwhile, one confirmed star of Suicide Squad has started opening up about her character. Robbie reveals that her Harley Quinn may talk like a New Yorker. That shouldn't be a problem for the Aussie actress, who pulled off a flawless Brooklyn accent in Wolf of Wall Street. Robbie told SuperHeroHype:
None of those things have been set in stone at this point, but according to the comics, she's from New York and I think Brooklyn, so there may be a slight... I couldn't imagine it would be as strong as the Wolf of Wall Street accent. The lingo will be the difference between that and the other character I played in Wolf but I don't know yet. We haven't spoken about it.
David Ayer is directing Suicide Squad, which also stars Will Smith as Deadshot, Jared Leto as the Joker, Cara Delevingne as the Enchantress, Jai Courtney as Boomerang, and Viola Davis as Amanda Waller. Jesse Eisenberg and Ben Affleck are rumored to reprise their roles as Lex and Batman, respectively, from Batman v Superman: Dawn of Justice.Suicide Squad opens August 5, 2016.