Netflix Reveals First Teaser For 'Wet Hot American Summer: First Day Of Camp'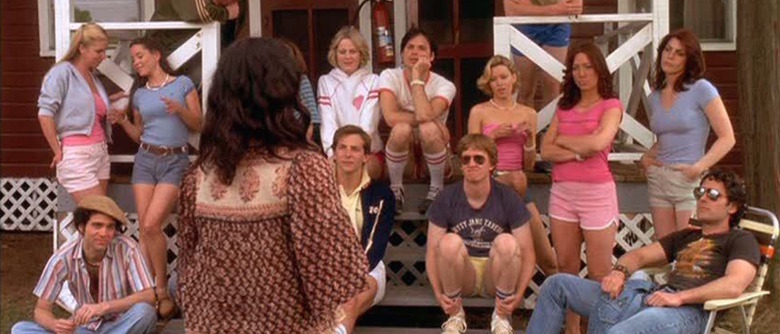 Netflix is preparing to party like it's 1981. The streaming service has released the first teaser for Wet Hot American Summer: First Day of Camp, a prequel to David Wain's 2001 cult comedy hit. Watch the Wet Hot American Summer Netflix trailer after the jump.
Netflix unveiled the new promo on YouTube.
It's really not much more than a list of names. But they're names of actors we adore, set to a fake '80s power ballad we love, over a shot of a cabin we know all too well. That's enough to put a smile on my face.
The flat-out massive cast includes (deep breath): Paul Rudd, Elizabeth Banks, Bradley Cooper, Amy Poehler, Michael Ian Black, Judah Friedlander, Janeane Garofalo, Ken Marino, Zak Orth, David Hyde Pierce, Joe LoTruglio, Christopher Meloni, Marguerite Moreau, Michael Showalter, and Molly Shannon.
And those are just the actors listed above. Other returning actors include H. Jon Benjamin, Nina Hellman, A.D. Miles, Marisa Ryan, Kevin Sussman, and Wain. And the new cast members are Michaela Watkins, Josh Charles, John Slattery (Mad Men), Randall Park (The Interview), Lake Bell (In a World...), Jayma Mays (Glee), Paul Scheer, Rob Huebel, and Richard Schiff.
Wet Hot American Summer: First Day of Camp will be a prequel to the first film, even though everyone was way too old for their roles in 2001 and are certainly way, way too old for their roles now. Wain and Showalter created the series and Wain is once again directing.
Shooting is already underway on the limited series, which will consist of 8 episodes. Because of the size of the cast, only a few actors will be used at a time — kind of like what the Arrested Development team did, but hopefully with better results. Wet Hot American Summer: First Day of Camp does not yet have a release date.