'Ghostbusters' Casting: Kristen Wiig, Melissa McCarthy And More In Talks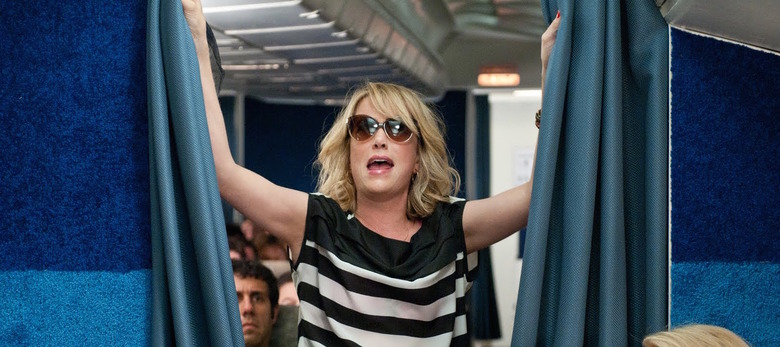 Paul Feig's all-female Ghostbusters team is coming together. Among the funny ladies in talks are Feig's Bridesmaids stars Kristen Wiig and Melissa McCarthy, along with current Saturday Night Live players Kate McKinnon and Leslie Jones.
More on the possible Ghostbusters Kristen Wiig casting after the jump.
Variety reports all four women are in early talks for Ghostbusters. That doesn't mean they're confirmed, and the trade cautions that scheduling still has to be worked out. But Feig, for his part, is already hyping up his new potential Ghostbusting team.
— Paul Feig (@paulfeig) January 27, 2015
Earlier reports indicated that Emma Stone and Jillian Bell (22 Jump Street) had also spoken with Feig about roles. However, neither is mentioned in the latest story. Jennifer Lawrence and Rebel Wilson previously had meetings about Ghostbusters as well, but no longer seem to be in the mix.
A new Ghostbusters film has been in development for several years. This latest incarnation with Feig seems like it's already come further than most, if only because it's already started casting. Few of the other versions made it that far.
The script by Feig and Katie Dippold (The Heat) will be a full reboot of the 1984 movie, rather than a sequel. In an earlier interview, the director explained why:
I have too much respect for the original one [to do a sequel]. There's also the feeling that once the world knows ghosts and has seen them busted on such a large scale, they run the risk of becoming pedestrian. There's something fun about introducing our world, which has never seen ghosts to the phenomenon of ghosts. I love origin stories and to introduce new characters.
In addition, Feig promises his Ghostbusters will actually be scary:
Both she and I are obsessed with how do we make comedy really scary? The sequel to The Heat was going to be pretty scary and funny. Almost like in a Silence of the Lambs type thing but funny. I think funny people in peril and in danger is one of the best forms of comedy, and I really like things to play very real while funny things are happening. So that's what both Katie and I really want to do with this one is make it crazy funny but also you're scared at the same time.
Few details have been revealed about the film, other than that it'll be a reboot featuring a primarily female cast. Another Saturday Night Live actress, Cecily Strong, is rumored to be playing a government official a la William Atherton's Walter Peck from the original.
Ivan Reitman, who helmed the original, will produce. None of the original cast members are set to return at this point. Feig has said he'd welcome any of them back "with open arms," albeit in different roles.