Sequel Bits: 'Terminator: Genisys', 'Ted 2', 'Zoolander 2', 'Star Trek 3', 'Hot Tub Time Machine 2'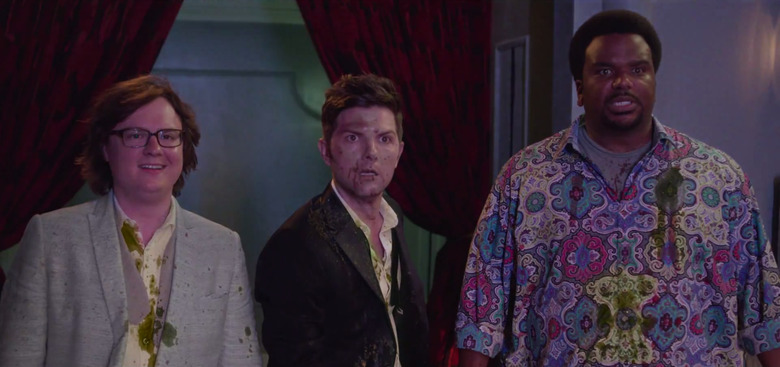 Forget all those cute little indies from Sundance — let's dive into some big blockbuster sequels. After the jump:
Get details on Arnold's big fight scene in Terminator: Genisys
Resident Evil: The Final Chapter will shoot this summer
Colin Firth "might be ready" for Bridget Jones 3
Now You See Me 2 picks up Henry Lloyd-Hughes
Christine Taylor's Matilda will return for Zoolander 2
Chris Pine likes Simon Pegg as the Star Trek 3 screenwriter
Watch the trailer for The Man with the Iron Fists 2
The Divergent sequel Insurgent gets one more poster
A Hot Tub Time Machine 2 TV spot warns against deflated balls
Ted 2 gets a poster and a certain Patriots quarterback
Arnold Schwarzenegger's T-800 will be facing some pretty formidable foes in Terminator: Genisys, not least of which will be (spoiler alert!) his own younger self. A source has leaked details on the key fight scene between two versions of the T-800:
The young digitally enhanced T-800 is doing a forward lunge double fist punch and/or crushing the aged T-800's face with both its knuckles pile-driving into the real Arnold Schwarzenegger's metal skull, like something out of a wrestling match. The aged T-800 has its left arm locked under the T-800's right shoulder as if it is going to make a deadly move on the younger T-800.
The older one wins out in the end, but sustains serious damage: "It will be the first significant stage of battle damage for Arnold's character and it will be a stage familiar to fans of T2." Terminator: Genisys opens July 1. [The Terminator Fans via Coming Soon]
***
Milla Jovovich is gearing up for Resident Evil: The Final Chapter. The actress confirmed on Facebook that the sequel will begin shooting this August, after getting postponed last year due to Jovovich's pregnancy. She wrote:
I'm really proud of myself for not gaining the same amount of weight that I did with our first child (75 lbs.) because I have to be ready to start filming "Resident Evil- The Final Chapter" in August of this year.
Jovovich's baby is due this spring, and Resident Evil: The Final Chapter should be out next year or so. [Facebook via Coming Soon]
***
Hugh Grant has said to count him out for Bridget Jones 3, but his old co-star Colin Firth seems a bit more amenable:
It would have to have somewhere to go. Back at the time, I said that a third one should only happen if we were telling a story about having moved into a different generation when we were all beginning to deteriorate a little bit. I think we might be ready for that moment!
But that moment might be a little ways off. Bridget Jones 3 has been stuck in development for years, and it's been quite some time since we heard of any real progress. [The Independent]
***
Now You See Me: The Second Act has picked up another new cast member. Henry Lloyd-Hughes is set to play tech wizard Allen Scott-Frank in the sequel. He joins returning stars Jesse Eisenberg, Dave Franco, Mark Ruffalo, Woody Harrelson, and Michael Caine, and franchise newcomers Daniel Radcliffe, Lizzy Caplan, and Jay Chou.
Lloyd-Hughes is known for his roles in The Inbetweeners, Joe Wright's Anna Karenina, and Harry Potter and the Goblet of Fire. Now You See Me: The Second Act arrives June 10, 2016. [Deadline]
***
Derek Zoolander will be reuniting with his lady love Matilda Jeffries for Zoolander 2. "I can tell you that I'm involved, but that's all I can say," said actress Christine Taylor. "I can tell you it's happening, but I can't tell you where Matilda's at and where their relationship is at. It's all top secret!"
Taylor's real-life husband Ben Stiller will reprise his role as the really, really, ridiculously good-looking yet extremely dim-witted male model. Will Ferrell and Owen Wilson are also expected to return. Justin Theroux, who played the evil DJ in the first film, is directing. [EW]
***
Chris Pine couldn't be happier that his Star Trek co-star Simon Pegg has taken over scripting duties on Star Trek 3. "We're all really excited," he said. "What we enjoy about it is that we have a laugh. We want to make sure that that's still embedded in there, so to have Simon writing it is the perfect fit."
That said, Pine isn't without his concerns. "We are worried," he joked, wondering whether the threequel would consist of "vast, vast Simon Pegg monologues." Watch the full interview below:
[MTV]
***
RZA is back in the new trailer for The Man With the Iron Fists 2. Directing duties went to Roel Reiné this time around, though RZA still co-wrote the script and stars.
In the sequel, Thaddeus (RZA) turns up badly wounded in a 19th century Chinese town. He's taken in by a miner (Dustin Nguyen) and his wife (Eugenia Yuan). As his condition improves, he helps the miner and his town fight back against the evil Master Ho (Carl Ng).
The Man With the Iron Fists 2 hits Blu-ray, DVD, and On Demand April 14. [Universal Pictures]
***
Shailene Woodley is shattering the glass ceiling in the new poster for The Divergent Series: Insurgent, with a little help from Theo James. (Who, I have recently realized, looks exactly like Ryan Guzman from The Boy Next Door. But that's neither here nor there.)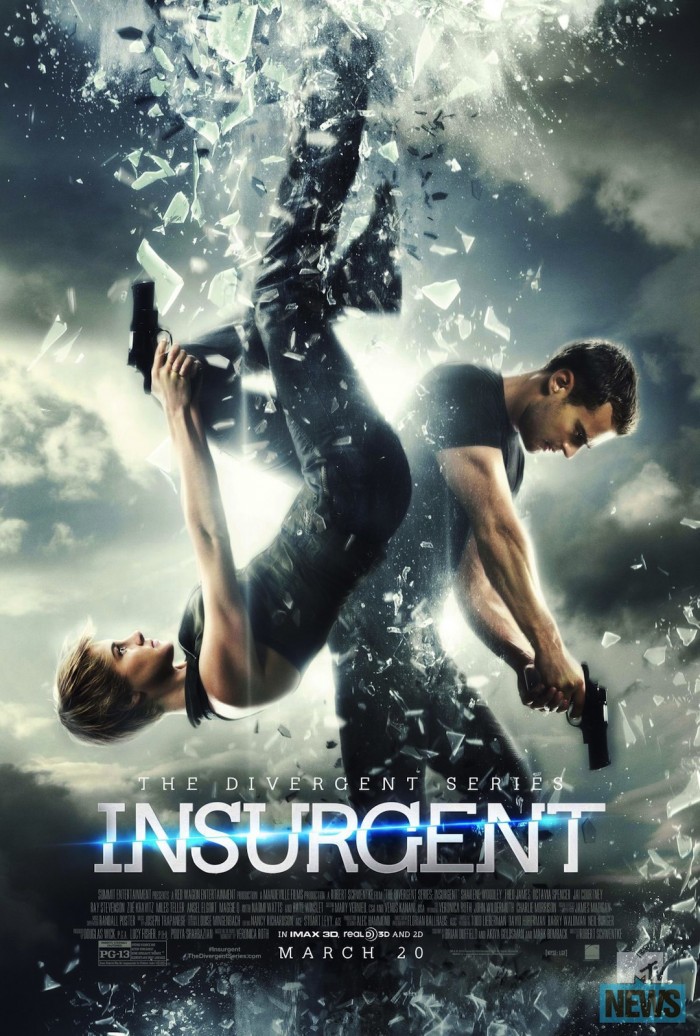 Robert Schwentke is directing The Divergent Saga: Insurgent, which opens March 20. [via ScreenCrush]
***
"Deflategate" is a headache for the NFL, but a boon for jokesters. Paramount's Super Bowl commercial for Hot Tub Time Machine 2 gets in a good crack about going up against the Patriots with "fully inflated" balls.
Hot Tub Time Machine 2 opens February 20. [Paramount]
***
Meanwhile, the Ted 2 team reportedly considered changing their Super Bowl spot to work in a crack about Deflategate, but realized it'd be too much work to change the animation.
Fortunately, they already have a plotline involving Tom Brady's balls. The ad airing this weekend will feature Brady as a possible sperm donor who gets involved in Ted's quest to have a baby.
Oh, and speaking of Ted 2 marketing materials referencing genitals, here's the poster for Ted 2.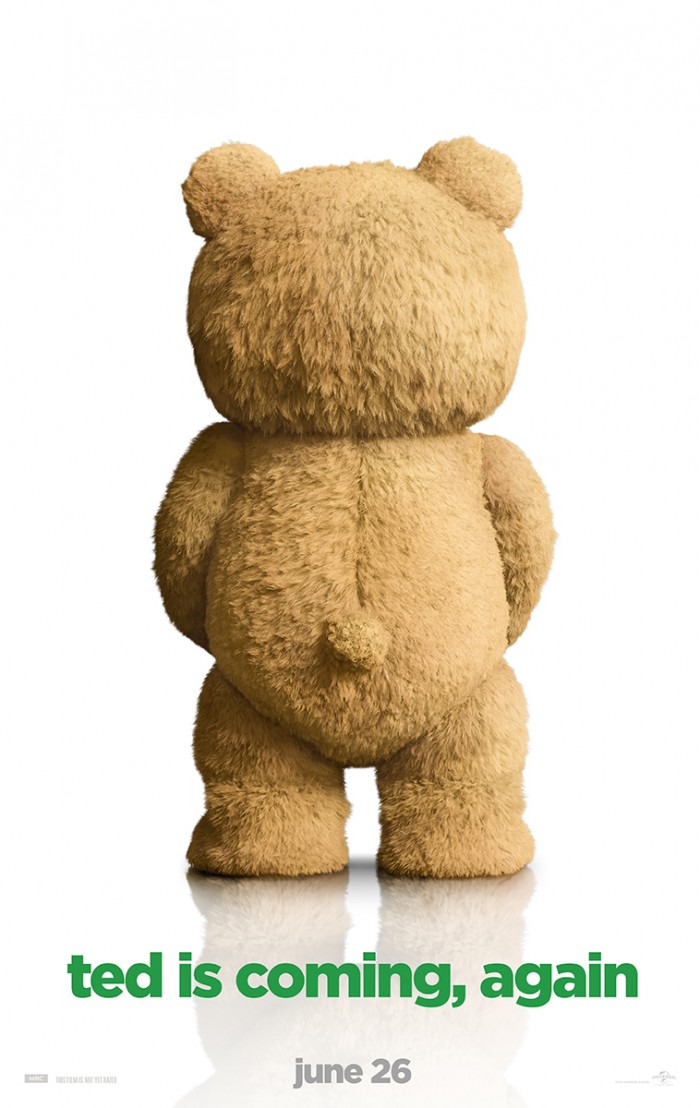 Ted 2 hits theaters June 26. Seth MacFarlane and Mark Wahlberg return. [THR]