First Look: 'Fantastic Four' Behind-The-Scenes Images Reveal Human Torch Costume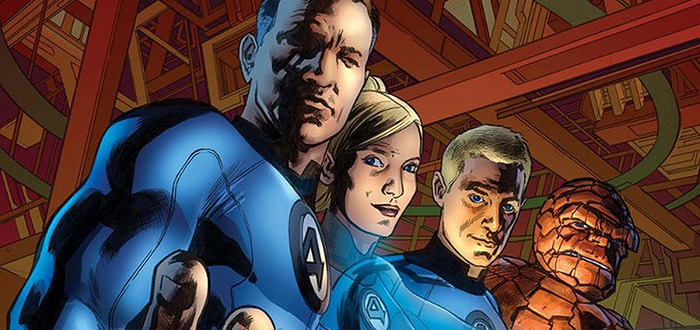 Of the three major superhero films opening this summer, Fox's Fantastic Four is the most mysterious. We've yet to see a still or poster, let alone a full-fledged trailer. Happily, that starts to change today with the first official behind the scenes look at the movie.
Michael B. Jordan, Miles Teller, Kate Mara, and Jamie Bell lead the superhero pic, which is directed by Josh Trank. Simon Kinberg and Jeremy Slater wrote the screenplay. Get your Fantastic Four behind the scenes peek after the jump.
The trailer for the film will be attached to Kingsman: The Secret Service next month but Collider debuted the first official behind-the-scenes images from Fantastic Four. The first shows Jordan with Kinberg. The second has Trank on set.
Interestingly, Jordan's costume lines up pretty well with Nerdist's illustrations of costumes from the movie, which you can see below. These aren't official concept art, but an artist's rendering based on information from an inside source.
Human Torch's outfit looks close enough that it stands to reason the others probably aren't far off either. Jordan had previously described the costumes as "containment suits."
In an accompanying interview at Collider, Trank explains why they "consciously decided to not release anything official" until just now:
This isn't like The Avengers. Even when the first Avengers came out, there were four other movies that people were familiar with. The suits and the tone and the look and the feel. So they could release those things or drop them on Twitter. With Simon on the X-Men movies, there were other movies that came before the last X-Men movie so Bryan [Singer] could feel more confident in tweeting teases of what's to come. But this movie, we really want the audience to have the proper reaction to this material seeing it for the first time. You've really got to put your best foot forward. You can't just leak an image to strike up a conversation. You want people to see something that has thought behind it. And the teaser should do just that. With conversations online, you can't really control it. In this day and age people have come to expect that artists are going to give everybody information on Twitter about what they're doing, but not every artist is like that. I'm not really like that. If I was painting a picture I wouldn't want to take a picture of a single paint stroke. I'd rather show people what it looks like when it's done.
We're still waiting to get our first taste of the actual film, but these behind-the-scenes pics sure are doing a great job of getting us hungry for more. Fantastic Four will be in theaters August 7.