'Turbo Kid' Sundance Trailer Zips Through A Post-Apocalyptic 1997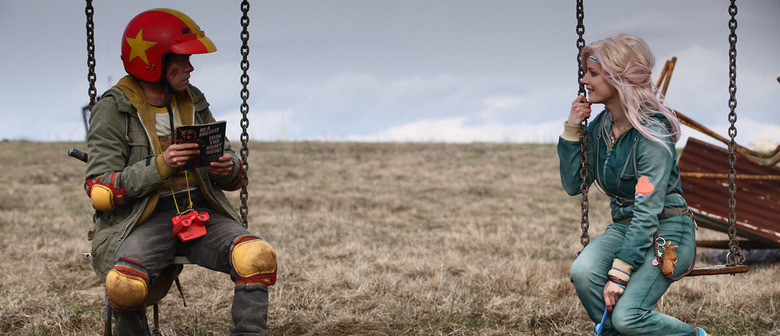 You can't throw a rock at Sundance without hitting a coming-of-age tale, but it's safe to say Turbo Kid is different from most. The Park City at Midnight entry follows an orphaned boy (Munro Chambers) in a retro-futuristic, post-apocalyptic 1997. After his best friend (Laurence Leboeuf) is kidnapped by the evil Zeus (Michael Ironside), he sets out across the Wasteland on his BMX bike to find her.
Co-director Anouk Whissell describes it as "an old crazy 80s kid movie," while co-director François Simard adds that it's "made for the inner children in all of us." (Yoann-Karl Whissell is the third co-director.) But it's not made for people who are also children on the outside — it's gleefully gory, as you'll see from the first Turbo Kid trailer after the jump.
debuted the first Turbo Kid trailer.
Turbo Kid actually started out as a contest entry for the T segment of ABCs of Death. It lost to Lee Hardcastle's T is for Toilet, but caught the attention of producer Ant Timpson, who asked whether the trio might consider making their short into a full-fledged feature. The results will be unveiled for the first time tonight at Sundance.
Here's the Turbo Kid synopsis from
:
It's 1997. In a ruined post-apocalyptic world, the orphaned Kid survives on his own through drought-ridden nuclear winter, traversing the Wasteland on his BMX, scavenging for scraps to trade for a scant supply of water. When his perpetually chipper, pink-haired new best friend Apple is kidnapped by a minion of evil overlord Zeus, the Kid summons the courage of his comic book hero and prepares to deliver turbocharged justice to Zeus, his buzzsaw-handed sidekick Skeletron, and their vicious masked army.
Bolstered by a pitch-perfect synth score, and clever and cheeky period details, co-directors François Simard, Anouk Whissell, and Yoann-Karl Whissell create a raucous retro-futuristic action comedy that pays homage to '80s movies great and small, while adding their own flair with inventive and exuberant violence and gore (prepare for disemboweling by exercycle). Sci-fi legend Michael Ironside delivers with malevolence and glee as the larger-than-life Zeus, a despicable villain with joie de vivre.