'Heroes Reborn': Zachary Quinto Won't Return As Sylar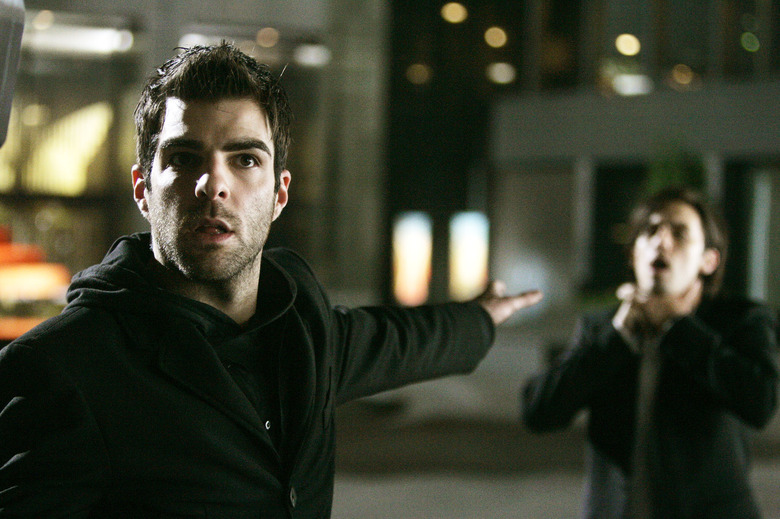 Sylar won't be among the heroes reborn for Heroes Reborn. Actor Zachary Quinto confirmed that although he has been approached, he will not reprise the Heroes villain for NBC's upcoming miniseries reboot. Read the Zachary Quinto Heroes Reborn comments after the jump, including his explanation of why he won't be back. 
Buzzfeed's Kate Aurthur got the scoop straight from Quinto at Sundance. Here's what the actor had to say when asked if he'd return for Heroes Reborn:
No, I'm not going to go back. I talked to them about it, and Tim reached out to me when they decided they were going to do it. We had a great conversation. It was such a meaningful experience for me — I loved that job, I loved those people. [...] I just felt like I didn't want to go back to it. [...]
Tim was very, very understanding, Tim Kring. He was very understanding and supportive. I'm thrilled that they're doing it, I'm thrilled that Jack Coleman is going back to it. And I know that they just cast Zach Levi, which is great. I mean, it's a great thing to be a part of. I just felt like I need to cultivate other outlets for myself.
Heroes was Quinto's breakthrough role. Though Sylar was a superpowered serial killer who terrorized the rest of the cast, he quickly became a fan favorite. Quinto portrayed the character through all four seasons, running from 2006 to 2010.
While Quinto isn't interested in Heroes, he is returning to NBC for a different miniseries next month — the drama The Slap. His other post-Heroes roles include the Star Trek films and FX's American Horror Story franchise. He's currently at Sundance for I Am Michael, a drama with James Franco and Emma Roberts. 
The 13-episode miniseries Heroes Reborn will pick up after the events of the original show. As of now, Jack Coleman (Noah Bennet / HRG) is the only original Heroes cast member set to return. Creator Tim Kring also returns. In addition, Zachary Levi is joining as a new character.
Heroes Reborn airs on NBC later this year.
The saga behind the 2006 breakout series Heroes will continue as creator Tim Kring returns to the fold and develops new layers to his original superhero concept. This highly anticipated 13-episode miniseries will reconnect with the basic elements of the show's first season where ordinary people were waking up to the fact that they had extraordinary abilities. This series will be preceded by a new digital series that will introduce audiences to the new characters and storylines that will take the Heroes phenomenon to new places.