Ava DuVernay And David Oyelowo Reteaming For Hurricane Katrina Drama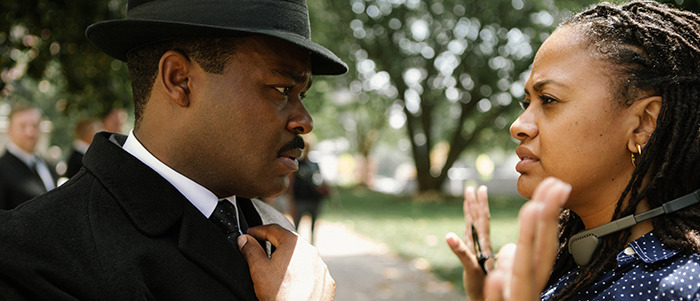 The Selma snub has been one of the biggest stories to come out of this year's awards season, but director Ava DuVernay and star David Oyelowo are already moving on with another new project. The pair are set to re-team for an as yet untitled drama set against the backdrop of Hurricane Katrina.
More details on the Ava DuVernay Hurricane Katrina project after the jump. 
THR reports DuVernay will direct, write, and produce the film, while Oyelowo is in talks to star and produce. Jonathan King and Jeff Skoll of Participant Media will executive produce. The company is known for its socially and politically conscious pictures.
The feature is described as "a sweeping love story and complex murder mystery set against the backdrop of the devastating hurricane of 2005." Explained DuVernay, "The story we're interested in will explore the complexities of intimate relationships within times of chaos, while also examining the chaos itself."
The Hurricane Katrina film marks DuVernay's third time working with Oyelowo, following 2012's Middle of Nowhere and last year's Selma. The former was also produced by Participant Media, and made DuVernay the first African-American woman to win the Best Director Prize at Sundance.
King sang DuVernay's praises in a statement. "Hurricane Katrina is one of the most important social and environmental stories of our time," he said. "Ava DuVernay has shown herself to be highly skilled at bringing intimacy and contemporary urgency to epic events."
DuVernay began her career as a film publicist before transitioning into directing with the 2008 documentary This Is the Life and then then 2010 narrative feature I Will Follow.
Oyelowo is currently burning bright thanks to Selma. He has several high-profile roles coming up including Queen of Katwe and Americanah, both with Lupita Nyong'o. His long list of credits includes Rise of the Planet of the Apes, The Help, Red Tails, The Paperboy, Lincoln, Jack Reacher, Lee Daniels' The Butler, and A Most Violent Year.