'The Strangers 2' Moving Forward With Director Marcel Langenegger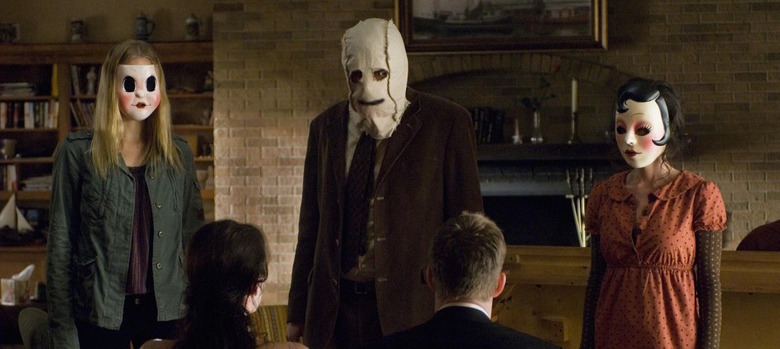 The Strangers will come knocking again. Relativity is moving forward on The Strangers 2, a follow-up to Bryan Bertino's 2008 horror hit. Marcel Langenegger (Deception) is directing this time around, from a script by Ben Katai (Chosen). More on The Strangers 2 after the jump.
TheWrap reports Langenegger is currently in negotiations to direct The Strangers 2 this spring. The plot follows a family preparing to send their troubled teen daughter off to boarding school. They decide to take one last family trip to a mobile home park run by the girl's uncle.
The family's vacation turns into a nightmare when the teenage kids arrive to discover the dead bodies of their aunt and uncle. Worse, it seems The Strangers — a trio of killers known only as Man in the Mask, Pinup Girl, and Dollface — are still around and eager to play with the rest of the family.
The original The Strangers was a hit, grossing $82 million worldwide on a budget of just $9 million. That one starred Liv Tyler and Scott Speedman as a couple attacked in a remote vacation cabin by the Strangers. None of the actors from the original are confirmed to return as of yet.
A sequel was put into development not long after the first film's success, with Laurent Briet slated to helm from a script by Bertino. But incarnation fell by the wayside, and this is the first major update we've had on The Strangers 2 in quite some time.
Langenegger is a Swiss filmmaker known for Deception, a 2008 thriller starring Hugh Jackman, Ewan McGregor, and Michelle Williams. He's currently prepping Latitude and Silver or Lead. The former is also by Relativity, and follows a family trapped on a cargo vessel lost at sea.
The Strangers 2 doesn't yet have a release date, but assuming it hits the spring start date we can probably look for it in theaters sometime next year.