In 'Racing Extinction' The Director Of 'The Cove' Targets A Network Of Earth's Problems [Sundance 2015]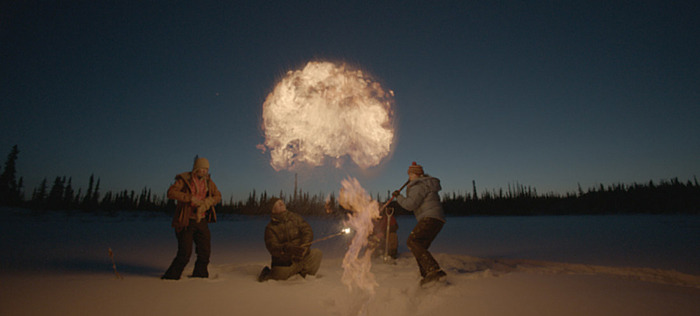 The Cove director Louie Psihoyos returns to Sundance in 2015 with a new call to action. Racing Extinction is a more wide-ranging documentary than its predecessor, albeit one that is just as sharply produced, and no less stirring. Psihoyos says his intention was to go a lot bigger, and the film follows through by offering a sort of omnibus catalog of several interrelated problems facing life on Earth. If anything, Racing Extinction is too broad to give ample time to every subject, but the sum total of Psihoyos' efforts is devastatingly effective.
Psihoyos begins with tactics that will be familiar to viewers of The Cove, using hidden cameras and espionage tactics to expose the illegal sale of whale meat at a US sushi restaurant. Those same tactics are used here and there throughout the film to investigate Chinese exporters of products derived from protected animals. (There is some horrifying footage there of shark fin processing.) It feels to a degree like the "secret camera" segments are Psihoyos doing what's expected based on The Cove, though there is a link from the covert operation that opens the film to the grand presentation that closes the movie.
Where The Cove had one primary narrative drive, Racing Extinction bounces between several threads. Animal conservation is only one of several core tenets, if perhaps the most effective. How can one not be swayed by footage of the last individual of a species? This film shows us a few, and they are heartbreaking. Psihoyos and his crew also visit an Indonesian village that is the largest manta ray hunting ground, spending a great deal of time documenting attempts to encourage the villagers to embrace alternate ways to profit from the manta population.
As a title, "Racing Extinction" refers not only to disappearing animal species, but to all life. There have been five extinction events in the Earth's history, the most recent having destroyed the dinosaurs 66 million years ago. Fear of a sixth, spurred by our own actions, is what drives this film.
Racing Extinction promotes figures that will be familiar to those who have already nurtured an interest in conservation. Animal species are vanishing at a rate about one thousand times that of the pre-human "background extinction rate" of one species per million per year. The plankton population in the world's oceans — a prime oxygen producer — has been reduced by 40%. Some other figures could use more explanation. The film sounds alarm bells about the future of blue whales, even though California blue whales have rebounded in the last few years. (Which isn't at all to say that continued conservation is not necessary.) As with any doc such as this, audiences should be encouraged to do their own reading.
Going further, Psihoyos uses compelling graphics, animation and interviews to link the loss of species to several other significant problems. Racing Extinction pushes not merely one topical agenda, choosing instead to illustrate a broad conception of these individual problems as interconnected events. (To his credit, Psihoyos builds in some transperancy about the carbon cost of a filmmaking endeavor such as this.)
The doc argues that our heavy reliance on meat as a primary foodstuff encourages the dedication of huge amounts of land to livestock production, which creates even more carbon dioxide and methane than the world's transportation industries, and which is linked not only to climate change, but to the increased acidification of the oceans, which can decimate animal populations. Psihoyos makes a compelling argument for this chain of events, and his intentions are in fact two-fold: to educate, and to convince us to take action, however small.
Faced with such a proliferation of problems how can an individual respond? Psihoyos is not totally pre-occupied with problems, and the film explores some concepts that could be possible solutions to the problems outlined within. Some are simple — change your diet, to reduce reliance on livestock; get involved in local politics — while others will take much more dedicated effort. When I described the film to a friend afterward, she quipped "so it's kind of like an activism starter kit." That's spot-on, and there's a huge audience that could use it.
Psihoyos is an excellent showman, and he uses those skills well here. Some activists may find the more showy parts frustrating, and I was even a bit put off with the highlighting of Elon Musk's Tesla company, which created a car the filmmaker and his crew use to project conservation and extinction statistics in urban centers. But the showmanship is part of an urge to take action; it's about using technology and reach — in part backed by people such as Elon Musk — to increase awareness of this network of very difficult problems. In that respect Racing Extinction is a rousing success, but the next step is up to all of us.
/Film score: 8 out of 10