'Me And Earl And The Dying Girl' Is A Movie We'll Be Talking About All Year [Movie Review]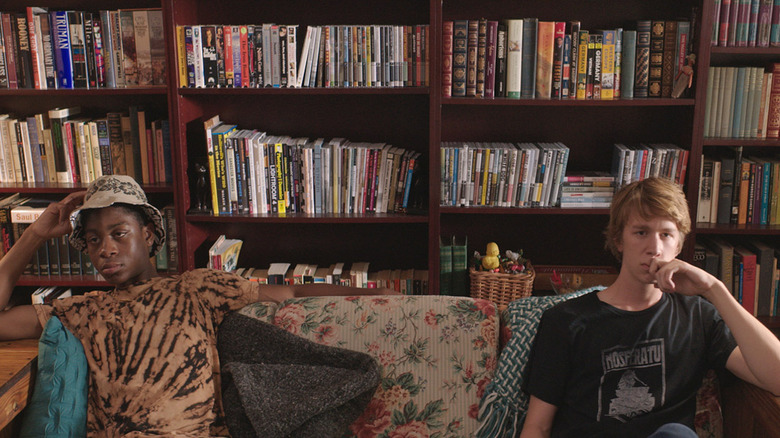 Editor's Note: Below is our review of from the Sundance Film Festival. We're republishing it now that Me and Earl and the Dying Girl is open in limited release. Find theaters here.
On paper, Me and Earl and the Dying Girl doesn't seem particularly exciting. An adaptation of a book by Jesse Andrews, it's the story of a high school senior who is forced to become friends with a school acquaintance who is diagnosed with leukemia.
Interesting, yes but not that exciting. Thankfully, Me and Earl and the Dying Girl isn't merely on paper. It's a film — in fact, a film that loves film, celebrates film, and is very much about the medium – with beautiful shot composition, tense long takes and elaborate tracking shots. It tells a touching and incredibly funny story with very realistic, honest characters and enough self-awareness to make it all feel modern. Directed by Alfonso Gomez-Rejon and adapted by Andrews, Me and Earl and the Dying Girl had its world premiere at the 2015 Sundance Film Festival this weekend. Read our Me and Earl and the Dying Girl review here.
Project X's Thomas Mann is the "Me" of the title. He's Greg, a new high school senior who has figured out the perfect way to become socially invisible. He knows everyone, is friendly with everyone, and quietly flies through his life. Greg is so averse to friends, he refers to his childhood best friend Earl (newcomer RJ Cyler) as his "co-worker," and their working relationship is mainly in filmmaking. They were exposed to foreign films at an early age by Greg's father (Nick Offerman) and became filmmakers themselves, making parodies of classic movies with stupid titles like The 400 Bros, A Box of Lips and A Sockwork Orange.
Things begins to change for Greg when a fellow student, Rachel (Ouija's Olivia Cooke) is diagnosed with leukemia. Her mom (Molly Shannon) is friends with Greg's mom (Connie Britton) and he is asked to make an effort to become her friend. The situation is weird at first, but the two quickly become close friends. Soon, Greg basically devotes his life to Rachel.
Greg is a very interesting and unique character in that he seemingly has all the answers, but is too scared to make use of them. He hangs out with his English professor (Jon Bernthal), understands the hot girl (Katherine C Hughes) and doesn't think college is a great idea. Yet when he and Rachel get close, many of those conventions change. He begins trying new things and is not sure how he feels about them. As Rachel's illness gets worse, he's forced to deal with some real emotions for the first time in a long time.
At its heart, Me and Earl and the Dying Girl is a film about finding out who you are in the world. That's a movie we've seen time and time again. In Greg, as well as Earl, Rachel and the rest, Andrews has crafted characters you actually believe in. Characters who aren't perfect, but are unique and therefore unpredictable, giving the movie a really great momentum.
Gomez-Rejon, who did the recent remake of The Town That Dreaded Sundown but is best known for work on American Horror Story, does an absolutely stellar job of helping shape this unique, character driven story. His shot compositions always seem to provide a variety of important things to see in the frame. He loves to move the camera, staging some wonderful angles and tracking shots when scenes really calls for them. And for the film's most dramatic scene, Mann and Cooke perform the entire thing in one take. After a film so vibrant, this locked shot adds a great deal to a film that already had a good thing going.
Then there's that icing on the cake, that Greg and Earl make movies. We get to see hints of those films, and making a movie becomes a major plot point for this story. The film glimpses allow for funny asides, but also character-building moments and in a few instances, they take the movie to transcendent levels.
Me and Earl and the Dying Girl is one of those movies we come to the Sundance Film Festival to see. The tonal balance of comedy and drama is perfect. It tries different things in its form, it loves that it's a film and is aware of its time and place in history. It's a very special, emotional and exciting movie that we're sure to be talking about for years to come.
/Film rating: 9.5 out of 10
Note: Me and Earl and the Dying Girl was part of a record-setting $12m purchase deal at Sundance. Fox Searchlight paid the sum, and will distribute the film.