'Mistress America' Is Noah Baumbach's Funniest And Most Accessible Film Yet [Sundance 2015]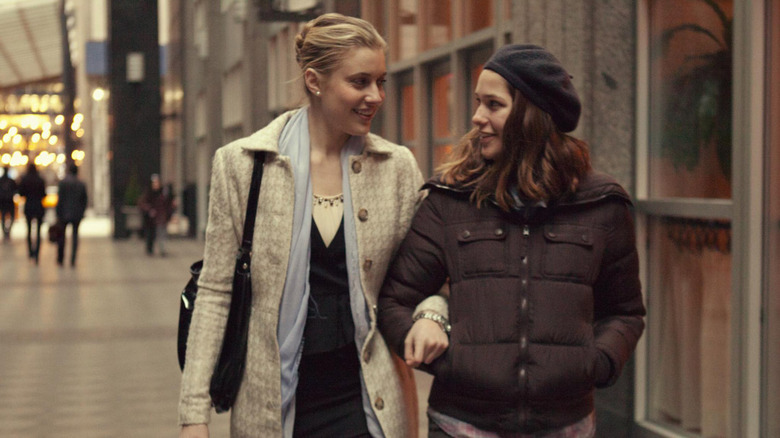 Noah Baumbach's movies have never been easy to describe. Each one blends so many different tones, sensibilities and genres that simply describing his movies as one thing doesn't work. Calling The Squid and the Whale a family drama doesn't seem right. Frances Ha isn't just a coming of age story and Greenberg isn't just a movie about self-discovery.
That lack of easy categorization is probably the only thing Baumbach's latest film, Mistress America, shares with the director's other films. Well, that and his co-writer and star Greta Gerwig. Mistress America is by far Baumbach's funniest film, anchored by a completely new sort of performance from Gerwig, and blessed with a script so smart and sharp, many of the film's jokes don't land for a few seconds because A) you've never heard anyone say anything like that and B) it's just so damn intelligent.
Mistress America had its world premiere at the 2015 Sundance Film Festival and you can read the rest of our Mistress America review below.Mistress America starts not with Gerwig but with Tracy, played by relative newcomer Lola Kirke. Tracy is a college freshman in New York City, which is a very lonely thing to be. She tries to make friends but eventually cold calls her soon-to be-step sister, Brooke.
Brooke (Gerwig) is 12 years older than Tracy and has a big, hustle-and-bustle New York life. She's also extremely confidant, flighty, fast speaking and occasionally brilliant. Think one of Woody Allen's characters from the Seventies, if he was a woman and came off as ditzy, but wasn't. Brooke is one of those happy-go-lucky girls you can't help but love, and Tracy immediately falls under her spell. The two become quick friends and both help each other in their lives.
Even at this point, it's hard to categorize what Mistress America is trying to say. Gerwig is absolutely hilarious and wonderful as Brooke. We've never seen her this big and boisterous as a character. Kirke plays the lost little sister very well too. But really the film is just these two characters, being themselves. Which is kind of exactly what's so great about Mistress America.
Yes, there ends up being a bit more of a plot involving Brooke trying to open a restaurant, but really it's just an excuse for Gerwig and Baumbach to populate their scenes with fun characters and layers of jokes. The second half of Mistress America feels like a giant film chemistry set as the director and writer carefully drop in characters, crazy lines of dialogue, and weird scenarios, all just because they've set up this world where all we care about is Tracy and Brooke, no matter what. That's not to say it's excessive. In fact, the film is kind of minimal, but it has an electric pop and crackle feeling all throughout.
In fact, it almost feels like Mistress America was an excuse to write a movie with all a writer's characters and dialogue that never fit anywhere else. In Brooke, the lovable, space cadet who may have everything figured out more than anyone else, you have a character that can say all those things and justify interactions with all those people.
Beyond that, Mistress America does have things to say about generation X, generation Y, New York City, the surrounding area, and more. But those things come in a distant second to the simple pleasure of laughing and enjoying the characters Baumbach and Gerwig have created.
/Film rating: 8 out of 10